Meet Gei's
Michael Ruetten, P.E.
Vice President
Michael Ruetten is a senior design engineer and technical advisor in our Green Bay, Wisconsin office specializing in landfill design, permitting, siting, construction documentation and construction quality assurance. He has landfill design expertise including landfill components such as soil liners, geosynthetics, leachate collection systems, leachate extraction and storage facilities, landfill gas wells and collection systems, landfill cover systems, surface water management, erosion control and re-vegetation. He has served as a technical adviser and quality control reviewer on multiple landfill and remediation design projects. His landfill experience is in over 15 states including Resource Conservation and Recovery Act (RCRA), municipal, construction debris, ash and sludge landfills. He has worked on remediation projects that included geosynthetic cover systems, leachate and gas dual extraction systems, slurry walls, landfill gas remediation systems and groundwater extraction. The following is a sample of the types of projects performed.
It goes without saying that TIMET would not be in the position we find ourselves in without the expertise, guidance and support of GEI. Please once again pass along my appreciation to everyone behind the scenes.
- Dick Pfarrer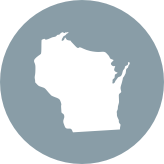 LOCATION
Green Bay, Wisconsin
Highlights
Licensed Professional Engineer: WI, KY, GA, PA, TX, VA
Ruetten, Michael G. (2010). "Technical Discussion of CCR Landfill Component of Pending Rulemaking," EUCI Conference, July 22-23.
Ruetten, Michael G. (2007). "Foundry By-Products in Transportation," EPA Meeting on Region 2 Beneficial Reuse, Chicago, Illinois, October.
Ruetten, Michael G. (2006). "Structural Fills and Bases Using Spent Sand," Committee on Waste Management and Resource Efficiency - ADC60, July.
Ruetten, Michael G. (1995). "Characterization of Protective Cover Soils for Landfill Geomembrane Liners," Third Great Lakes Geotechnical/Geo-Environmental Conference, May.
Ruetten, Michael G. (1994). "Granular Drainage Layers - Which 'Coarse' to Take," Seventeenth International Madison Waste Conference, September.