Meet Gei's
Steven Nicoson, P.E.
Project Manager
Steven has over 25 years of experience in geotechnical and geo-structural design and construction of building foundations, superstructures, underpinning, temporary and permanent excavation support systems, construction contract documents, construction observation, and inspection and condition assessment of existing structures.
He was the lead engineer for the deep foundation system for 105-story and 75-story towers in Doha, Qatar, both of which are currently under construction. He also was the lead engineer for the design of the repairs of a failed slurry wall excavation support system for a 65-foot deep basement in Dubai, United Arab Emirates. He has been a member of a team that provided an evaluation of the design review and construction oversight practices of the Department of Buildings in New York City for excavation support systems and underpinning.
Steven has a M.S. in Geotechnical Engineering and a B.S. in Civil Engineering from the University of Illinois Urbana.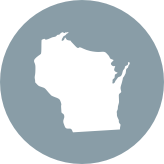 LOCATION
Milwaukee, Wisconsin
Highlights
Licensed Professional Engineer: IL, WI