About GEI Capital 
GEI is a consulting engineering firm that delivers value laden professional services that improve our world's built environment. GEI Capital is a leader in providing multidisciplined engineering and technical services to a range of private and public sector clients, both domestically and abroad. We foster personal relationships with our clients and support our staff in a partnership model, which is underpinned by continuous learning and sharing of knowledge. We retain proven, recognized experts and attract the best young minds to deliver to our clients a refreshing blend of technical expertise, collaborative spirit, and innovation that is rare in our profession.
Geotechnical and Geostructural Design Services
Since our founding, GEI Capital has provided geotechnical and geostructural engineering consulting for many landmark construction projects. These projects include commercial, institutional and industrial buildings and structures; dams, levees and pipelines; tunnels, highways and bridges; and construction-related structures such as slurry walls and excavation support systems.
Our geostructural practice provides owners, architects, engineers, developers and contractors a wide range of services to engineering and design creative and flexible solutions to complex underground projects. We have completed thousands of projects for complex underground structures, helping our clients manage the geotechnical and environmental risks and uncertainties of underground construction.
Expertise
Excavation Support Systems
GEI Capital has designed excavation support systems, cofferdams, and shafts for construction of numerous tunnels, buildings, and many other large, complex civil works projects. Types of support systems have included but are not limited to cantilever walls, simple braced excavations, tie-back anchored excavations; unbraced circular shafts; open-water cofferdams; braced cofferdams constructed in conjunction with existing structures; and pre-stressed bracing for structures sensitive to movements. GEI Capital can evaluate and design a variety of excavation support systems, depending on the unique conditions of the soil surrounding an individual project and the characteristics of the
permanent structure.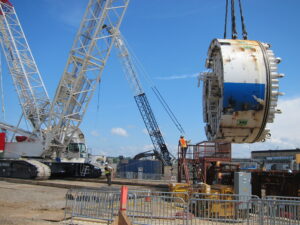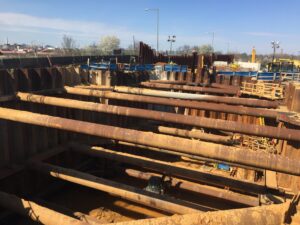 Foundations and Underpinning
Foundation engineering is a principal specialty of GEI Capital. Many GEI projects take place in congested urban areas with challenging subsurface conditions requiring specialized construction techniques and deep foundations. We have experience analyzing and designing drilled and driven piles, drilled shafts, slurry walls and secant pile walls, and load bearing elements. GEI Capital has designed foundation elements to resist many loading conditions including dynamic and seismic loads. We have evaluated and recommended specialized construction techniques to minimize the impact on nearby utilities, buildings, subways, and other sensitive structures. In addition to foundations for vertical structures, our experience also includes foundation design for a variety of civil engineering projects ranging from bridge foundations to tunnel design.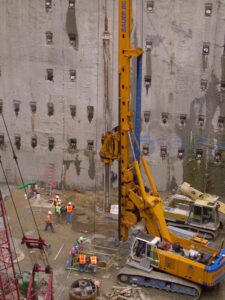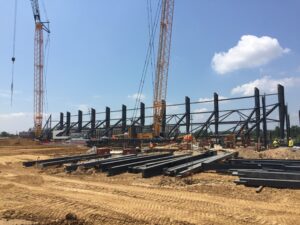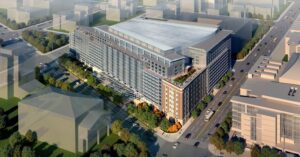 Ground Improvement
We design ground improvement for project sites with soils that cannot meet project bearing capacity or settlement
criteria of a shallow foundation, but where a deep foundation is cost-prohibitive. GEI's expertise in ground improvement includes rigid grout inclusions, vibro stone columns, rammed aggregate piers, grouting, soil mixing, dynamic compaction, and prefabricated vertical drains. When appropriate, we can use 2D and 3D finite element models to analyze these complex systems and provide optimized, cost-effective designs. GEI Capital has designed ground improvement for the support of buildings, roadways, bridge approaches, MSE walls, tanks, and utilities.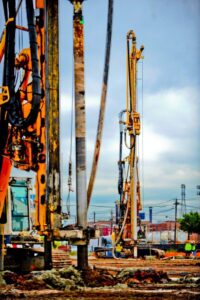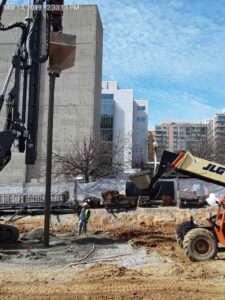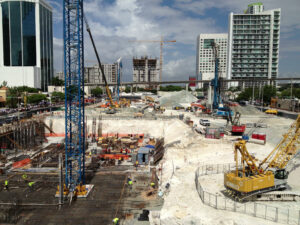 Instrumentation and Impact Assessment of Adjacent Structures
Many GEI capital projects take place in congested areas near many sensitive structures and with difficult subsurface
conditions. GEI Capital has expanded our capabilities to include real-time instrumentation and monitoring. This enables site instrumentation, such as geotechnical, structural, air, noise, and water quality sensors to be remotely monitored.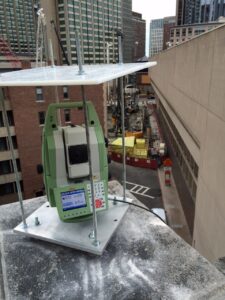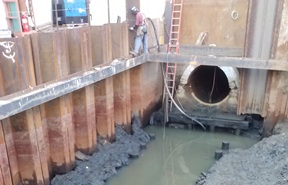 Contact
GEI Capital P.L.L.C.
1620 I Street, NW
Suite 800
Washington, DC 20006
202.828.9510 phone