News
GEI Celebrates the Completion and Ribbon Cutting of the New T-Wharf in Plymouth, MA
September 20, 2017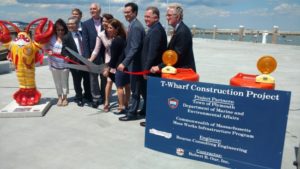 Local officials and special guest Lt. Governor Karen Polito gathered to celebrate the opening of the brand-new T-Wharf in Plymouth, MA with a ribbon cutting ceremony for the newly constructed project.
The new T-Wharf is twice the size of the previous pier, measuring at 18,360 square feet, and will play a vital role in stimulating the growth of Plymouth's commercial fishing trade.
*GEI, along with the help of Scituate Concrete Products of Marshfield, MA and Robert B. OurCo Inc. worked to design and construct the new wharf.
The reconstruction and reopening of the T-Wharf in Plymouth Harbor will allow for substantial economic growth for the region's economy. With a MassWorks award of $2 million and $1.25 in local funding, the new wharf will support 200 to 300 jobs already generated by activities occurring in Plymouth Harbor, in addition to allowing for expansion of current businesses and creating new ones.
"This is the single most important project we've had on the harbor in quite some time," said David Gould, the town's director of marine and environmental affairs, to the National Precast Concrete Association.
The new T-Wharf will improve Plymouth's existing lobster and ground fish industries as well as emerging ones, such as shellfish aquaculture. In addition, the new facility and structure includes services for visiting boaters and creates a nice space for thousands of tourists who come to visit Plymouth every year.
The T-Wharf, along with other new infrastructure ventures will help boost Plymouth's economy in the coming years.
"Today Plymouth has a great deal to celebrate, and our administration is proud to collaborate with local partners to lift up the town's vision for the future," said Gov. Charlie Baker in a MassGov press release.
*The design for this project was completed by Bourne Consulting Engineering in April of 2016. Bourne Consulting Engineering was acquired by GEI Consultants, Inc. in May of 2016.