Meet Gei's
Micah Forbes, P.G.
Project Manager / Senior Hydrogeologist
Micah is a Professional Geologist (P.G.) with over 17 years of experience in environmental science and hydrogeology, with emphasis in health and safety, and site characterization and remediation of groundwater contamination. He has provided strategic consulting services to global chemical and pharmaceutical manufacturing corporations in areas including regulatory agency negotiations, evaluation of the nature and extent of environmental contamination, and the application of cost-effective remedial approaches. Micah's professional experience also includes directing large remediation projects, teams, and subcontractors; producing technical deliverables to regulatory agencies and submitting on schedule; and negotiating with regulatory agencies.
He holds a B.S. in Geology from the University of Delaware and an M.S. in Geology from West Chester University.
Connect on Linkedin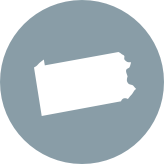 LOCATION
Exton, Pennsylvania
Highlights
Professional Geologist; PA
OSHA 40-hour HAZWOPER training and 8-hour HAZWOPER refresher