Meet Gei's
Michael D. Smith, Ph.D.
Senior Environmental Practice Leader – NEPA | CEQA | Environmental Compliance
Dr. Michael Smith has extensive experience in environmental impact assessment, project and program management, policy development, land use planning, and training/education with the federal government, private sector, academia, and non-governmental organizations. His technical areas of expertise include cumulative impact analysis, greenhouse gas emissions and climate change analysis, socioeconomics and environmental justice analysis; and designing strategies for streamlining National Environmental Policy Act (NEPA) and California Environmental Quality Act (CEQA) processes and reviews. Dr. Smith has managed and provided environmental compliance review for some of the nation's largest, most complex, and highly controversial projects, including major water, energy and transportation infrastructure projects, approval of genetically engineered plants, commercial space transportation operations, and approval of new fuel economy standards for all vehicles operated in the United States.
He holds a B.A. in Environmental Studies from the University of California, an M.A. in Geography from the University of Wyoming, and a Ph.D. in Environmental and Natural Resources Sociology from Utah State University.
Connect on Linkedin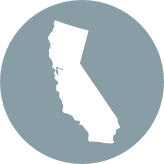 LOCATION
Sacramento, California