Meet Gei's
Samuel Merrill, Ph.D.
Senior Practice Leader
Dr. Sam Merrill is a recognized leader in climate adaptation planning, including next generation approaches to benefit-cost analysis for candidate adaptation actions. For twelve years through 2012, he was Associate Research Professor at the Muskie School of Public Service, University of Southern Maine, and Director of the EPA's New England Environmental Finance Center at the Edmund S. Muskie School of Public Service. He has been a successful small business owner and held directorships in nonprofit, academic and government sectors. He has published over 30 peer-reviewed articles and received many awards for his work, including an Environmental Merit Award from the EPA in 2014 and a Visionary Award from the Gulf of Maine Council in 2015. He is also an Honorary Lieutenant Colonel with the Minnesota National Guard; for his work there in the 1990s, in 2000 he received a Commander's Medal for Distinguished Public Service, the highest honor presented to private citizens by the Department of Defense.
Sam earned both his Ph.D. in Wildlife Conservation and M.S. in Conservation Biology from the University of Minnesota. He earned his B.A. in Zoology from the University of Maine.
Connect on Linkedin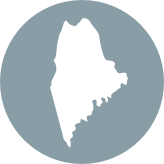 LOCATION
Portland, Maine