Press Release
Yuannian (Jerry) Wang, PhD, P.E. joins GEI's Boston office as a Senior Geotechnical Professional
April 25, 2023
Geothermal expert complements GEI's national suite of geotechnical services.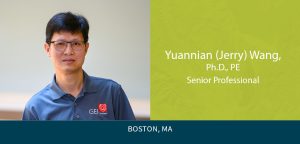 Woburn, MA (April 26, 2023) – Yuannian (Jerry) Wang, PhD, P.E. has joined GEI's Boston office as a Senior Geotechnical Professional with more than a decade of expertise in geotechnical, tunneling, mining, and geothermal engineering.
"I'm excited to add Jerry's 15 years of experience to our group," says GEI Geotechnical Project Manager Jeanne LeFebvre. "Jerry will work with our team and across the company to promote our tunneling capabilities, develop GEI's geothermal practice, and work on other geotechnical projects and pursuits."
Jerry's project experience encompasses geotechnical investigations, tunnel and trenchless alternative and feasibility studies, geotechnical design and analysis of tunnels and underground structures, deep foundations, excavation supports, ground improvements, slope stability, and rock fall mitigation. Jerry is also experienced in the design and construction support of geothermal wellfield systems to provide heating and cooling to buildings.
"I'm thrilled to be part of the GEI team. GEI's unique partnership culture and solid reputation with both clients and peers is impressive," says Jerry. "Since I joined GEI, working with our team across the company, we have already helped our clients by successfully delivering our engineering services on several trenchless and geothermal projects. We have also recently been awarded and are currently actively pursuing many similar tunneling and geothermal projects and opportunities. I look forward to collaborating with our team to promote GEI's tunneling, geothermal, and rock engineering capabilities to better serve our clients."
About GEI: GEI Consultants, Inc. is a consulting engineering firm that delivers professional services that improve our world's built environment. With more than 1,000 staff and 47 offices in North America, GEI is a leader in providing multi-disciplined engineering and environmental services to a range of private and public sector clients, both domestically and abroad.
As a member of the employee-owned GISI family of companies, we foster personal relationships with our clients and support our staff in a partnership model, which is underpinned by continuous learning and sharing of knowledge. We retain proven, recognized experts and attract the best minds to deliver to our clients a refreshing blend of technical expertise, collaborative spirit, and innovation that is rare in our profession. We engineer solutions in five primary end markets: Water Resources, Energy, Buildings, Infrastructure, and Industrial. For more information on GEI, please visit www.geiconsultants.com.