Meet Gei's
Chris Petersen, P.G., C.Hg.
Senior Hydrogeologist
Chris Petersen has 27 years of experience providing groundwater technical expertise for large interdisciplinary water resources investigations and planning efforts, many of which involve conjunctive use. He has broad experience in the planning, design and optimization of groundwater recharge techniques, an important element of most conjunctive use programs. Mr. Petersen has assisted numerous clients in obtaining state and federal funding assistance for the development of conjunctive use programs throughout California and in New Mexico. Key to the success of every groundwater management planning effort is building trust and reaching consensus among project stakeholders, including the regulatory community. Mr. Petersen has demonstrated success in this environment, resulting in projects that meet water supply needs while protecting the environment.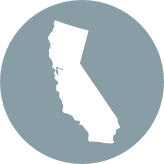 LOCATION
Sacramento, California
Highlights
Licensed Professional Geologist: CA