GEI offers a wide range of services to developers, municipal, state and federal government agencies and contractors. Our engineers specialize in an array of civil, geotechnical, and environmental services, including deep excavations in urban settings that contain challenging ground conditions and adjacent structures. GEI has significant experience providing Construction Quality Assurance (CQA) Oversight and Materials Testing Services. Our experienced staff have performed field oversight, construction inspection, and field and laboratory materials testing services on all types of construction projects including commercial, institutional and industrial buildings and structures; dams, levees and pipelines; tunnels, transmission line projects, highways and bridges, and construction-related structures such as slurry walls and excavation support systems.
Our Focus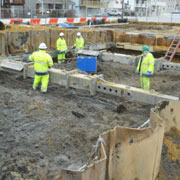 Construction Management, Field Engineering, Observation & Inspection
GEI has extensive experience in Construction Quality Assurance (CQA), observation and inspections. We contribute to the overall success of a project by providing outstanding service and innovative solutions to problems encountered in the field. Our staff consists of seasoned construction managers to coordinate the activities of all involved parties, as well as on-site CQA technicians. Our focus is to provide an overall value to the project in addition to completing the regulatory requirements for CQA. We recognize the importance of quick turn around on construction documentation reporting, clear and effective communications between all parties and highest levels of responsiveness to the client.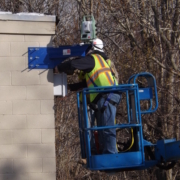 Instrumentation & Monitoring
GEI performs instrumentation and monitoring services encompassing the geotechnical, structural and environmental aspects of a project. Even at remote sites, instruments measuring a variety of parameters can be integrated via wireless communication into a fully automated monitoring system with data presented on a single unified website. This allows for efficient dissemination of data to our clients and other designated parties and for prompt evaluation by our engineers.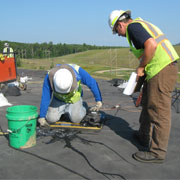 Materials Testing
GEI employs trained and certified technicians to test the strength, durability and other characteristics of a variety of materials that are used during construction. Tests are completed on-site, in field or in an office laboratories to verify the materials used during construction meet the specifications during construction. We actively work with our clients to minimize material failures and replacement and to investigate and provide recommendations when materials do not meet specifications.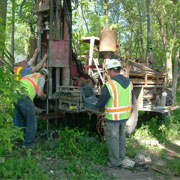 Nondestructive Testing
Nondestructive Evaluation (NDE) use minimally invasive and/or remote sensing techniques to gather critical information about internal structural features and integrity, underground structures and utilities, soil stratification and environmental conditions or contaminants. The NDE department personnel are trained in a wide variety of techniques.