GEI offers a wide range of construction services that can be tailored to meet the needs of our clients and project stakeholders. Our experienced engineering and construction management staff specialize in delivery of an array of complex civil, geotechnical, water resources infrastructure, ecological restoration and environmental remediation projects. The principals of our construction services are collaborative, flexible, and responsive to create value throughout the entire process.
GEI's construction services are focused on effectively controlling safety, risk, cost, schedule, budget, and quality for efficient project delivery using the latest project management and construction implementation tools. The services listed below are available throughout the lifecycle of a project including pre-design, design, procurement, construction, and post construction.
Constructability Reviews
Cost Estimating
CPM Scheduling/Project Controls
Engineering During Construction
Construction Management
Construction Management-at-Risk (CMAR)
Construction Quality Assurance and Materials Testing
Our Focus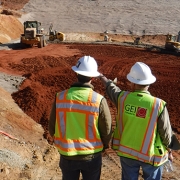 Construction Management (CM)
GEI has a long and successful history performing construction management as an Owner's Representative – from managing the Owner's contract with the construction contractor, overseeing the execution of the work in the field, and coordinating the design team, regulators, and other stakeholders through construction to Start-Up and Commissioning , commissioning, turn-over and operation and maintenance (O&M).
We believe that the best approach to CM is to be "firm and fair." Consistently implementing the contract and holding all parties accountable for their responsibilities, while ensuring mutual consideration, sets a foundation for successful construction projects and long-term, trusting relationships.
As a successful engineering and design firm, GEI has developed a CM practice that advocates for early CM involvement in the design phase and is highly skilled at working with designers to identify and mitigate risks, solve constructability issues, estimate construction costs, and create biddable construction documents. This early involvement minimizes changes, delays, and claims during construction.
GEI has experience in providing CM services for projects a large and small. We can scale our services, staffing, and tools to fit your projects, either as a complete and standalone team or as staff augmentation to your in-house CM division.
Engineering During Construction (EDC)
GEI has supported the construction of thousands of our own designs. Indeed, we typically set up our engineering teams with the assumption that we will perform EDC, ensuring that the same team that developed the design will support the project through construction.
In construction, time is money and our fundamental approach to EDC is to keep the project moving. We do this by being responsive, efficient, and collaborative with contractors and construction managers to quickly create solutions to field and design issues. At the end of the day, we've learned that our clients come back to us because we put the project first.
To that end, we have learned that the most effective EDC is based on groundwork in the design phase. We develop clear and consistent engineering documents, commonly in the form of a Basis of Design Report (BODR) and a Geotechnical Baseline Report (GBR), that support the efficient solution of issues during construction, ultimately minimizing delays and disputes. Additionally, particularly for more complex or schedule-driven projects, we engage our construction managers in implementing a risk management plan in the design phase to identify potential construction-phase issues and their mitigation strategies, so those strategies can be lined up before the issue occurs.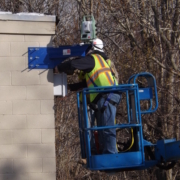 Instrumentation & Monitoring
GEI can design and install instrumentation and monitoring services to encompass the geotechnical, structural, and environmental aspects of your project. At remote sites, instruments measuring a variety of parameters can be integrated via wireless communication into a fully automated monitoring system with data presented on a single unified Decision Support System. Our systems can automatically send alarms via email/text message to alert you and designated staff, should the data exceed project action limits, for prompt evaluation by our engineers and scientists.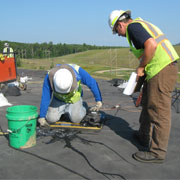 Materials Testing
GEI employs trained and certified technicians to test the strength, durability, and other characteristics of a variety of materials that are used during construction. Tests are completed on-site, in field, or remotely to verify the materials used during construction meet the project's specifications during construction. We work with your team to minimize material failures and replacement and to investigate and provide recommendations when materials do not meet specifications.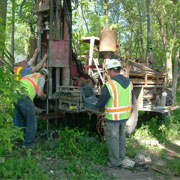 Nondestructive Evaluation (NDE)
NDE uses minimally invasive and/or remote sensing techniques to gather critical information about internal structural features and integrity, underground structures and utilities, soil stratification, and environmental conditions or contaminants. Our NDE team are trained in a wide variety of techniques.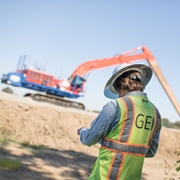 Environmental Construction Compliance Services
GEI's environmental team specializes in guiding our clients through the complex process of environmental compliance and implementing sound monitoring procedures while maintaining construction schedules and budgets. We work closely with our clients, construction contractors, resource agencies, Native American Tribes, and other project stakeholders to avoid and minimize project construction impacts to environmental resources and to quickly and efficiently resolve any challenges that arise during construction activities.
Our team includes archaeologists, biologists, and other technical experts as needed and includes senior staff skilled in compliance matters, field crew leaders, and more junior field staff.