Fort Industry Square Historic Preservation Project
The 160,000-square-foot Fort Industry Square building sits on one of the most recognizable blocks in downtown Toledo. Thirteen side-by-side, four-story adjacent structures were constructed in the late 1800's and are now listed on the National Register of Historic Places. In recent decades, vacancies rose and maintenance was deferred until the buildings were virtually empty. After being purchased in 2017 by a real estate development firm, Fort Industry Square required a major renovation to help the city in its goal of revitalizing its downtown core.
Fort Industry Square Historic Preservation Project
The City of Toledo, Ohio has a big goal: support revitalization efforts to improve its downtown core, reduce blight, and preserve and improve structures throughout the area.
Sometimes, that effort requires plenty of help. That was certainly the case with the Fort Industry Square project. This historic renovation project involved not just one building but 13 distinct, side-by-side buildings sitting squarely in downtown Toledo.
Adapting & Reusing
Renovations like this are known as building repurposing or adaptive reuse projects. Repurposing of an existing (and sometimes historic) structure for new use, adaptive reuse projects typically face structural engineering and environmental remediation challenges.
The 160,000-square-foot Fort Industry Square project is at the core of one of the most recognizable blocks in Toledo and represents a major piece of the city's downtown renaissance. The site has been placed on the National Register of Historic Places, due to the prior Fort Industry stockade in use around 1800. The site was then developed between 1862 and 1895 as a downtown city block of commercial properties with shared walls between the buildings.
Despite numerous remodeling projects over the decades, the city block was nearly vacant, leading to virtual abandonment and decay.
After being purchased in 2017 by a real estate development firm, the buildings received some much-needed attention and major renovation. Buildtech, Limited was the general contractor on the project and Kraemer Design Group led the historic architectural design effort. GEI participated in the process, from structural assessment through rehabilitation design and construction-related design assistance.
A Response to the Unexpected
The first step in the $60 million renovation project involved a complete survey of the entire as-built and as-remodeled structure. The 13 separate buildings included individual ornate facade designs and distinct structural framing features. During the assessment, the team found odd remodeling features, including an old bank vault with railroad rails as the vault ceiling structure to deter any would be bank robbers.
Working with the architects on the project, GEI devised new framing schemes for filling in old stairways, creating new shafts for elevators and similar remodeling framing. Additional finds included sloping floors to be releveled, damaged brick facades requiring partial or full reconstruction, and adding stairs through shared wall penetrations since floors in adjacent buildings were not typically at the same elevation. As interior finish demolition proceeded, GEI continually visited the site to observe and evaluate newly exposed structural framing in each building. Where questionable or deteriorated framing was found, new structural framing was designed by GEI.
This innovative rehabilitation effort returned integrity to the entire 13-building structure, preserving a historic city block in the process and paving the way for new commercial and residential use. Fort Industry Square is now a key feature in historic downtown Toledo.
Learn more about the project from this local Toledo news clip.
Show More
Show Less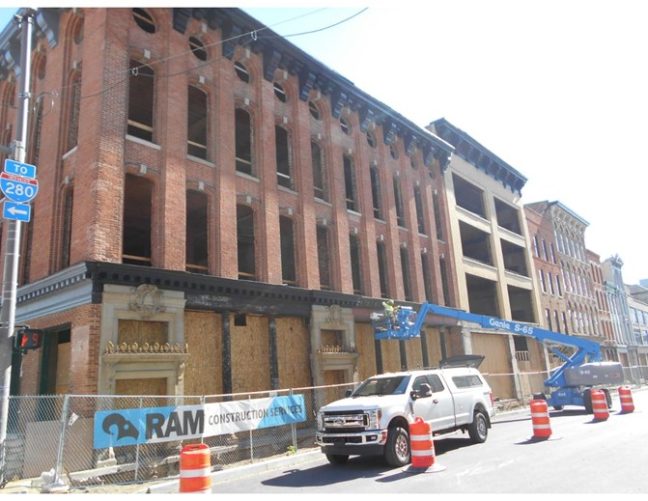 Previous Exterior

Completed Exterior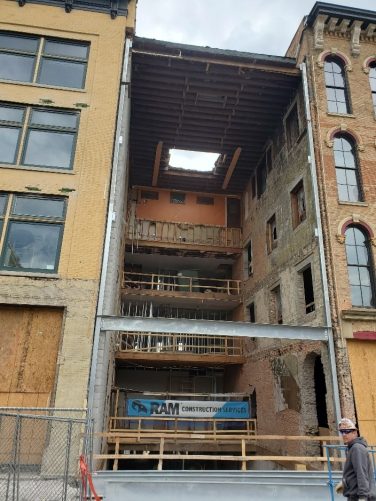 Façade Replacement Before Construction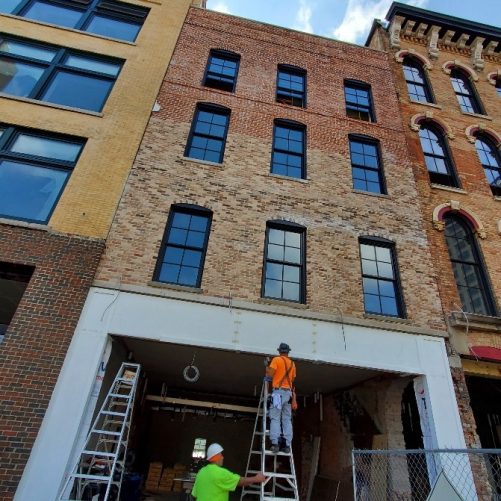 Completed Façade Replacement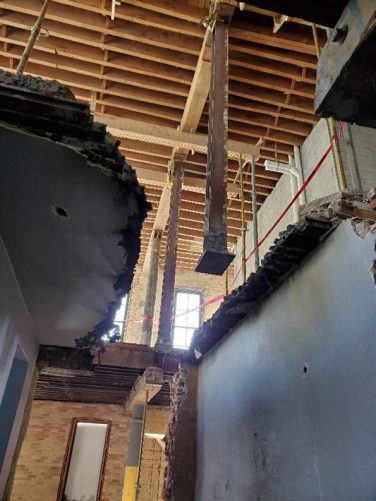 Vault Removal During Construction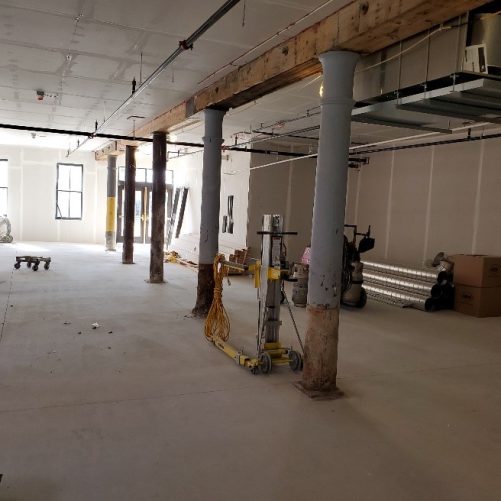 Completed Vault Removal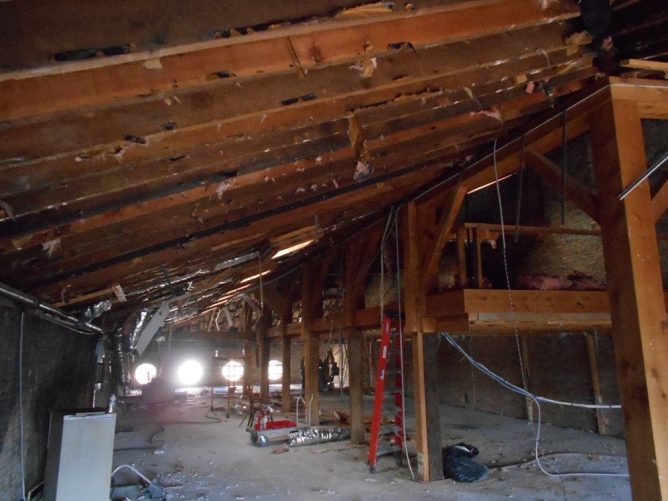 Residential Unit During Construction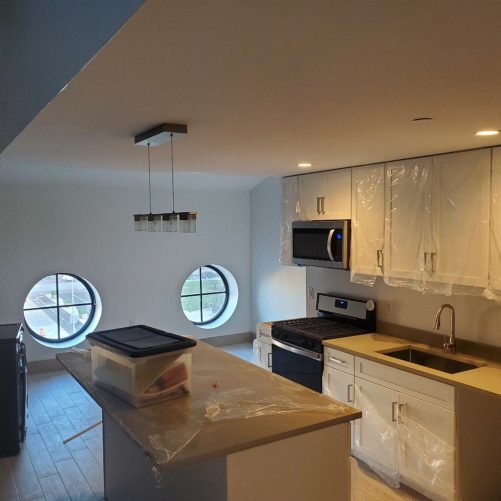 Completed Residential Unit
Hallway Opening During Construction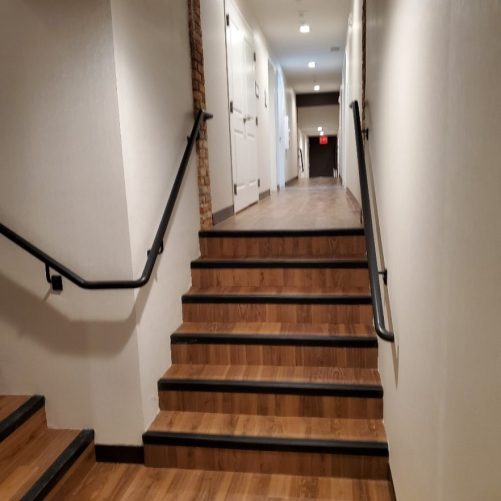 Completed Hallway Opening
Lobby During Construction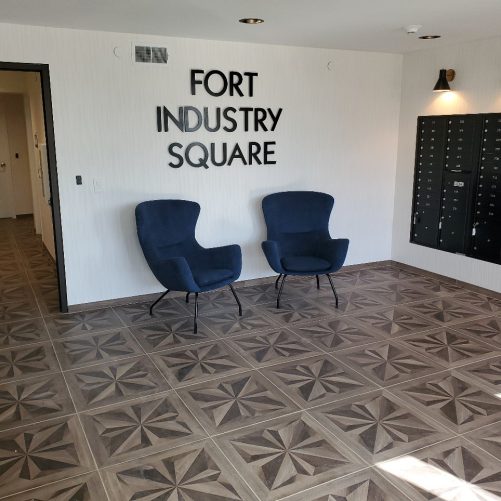 Completed Lobby
Key Challenges
The GEI team assisted with the initial structural assessment, discovering odd remodeling features, sloping floors, and damaged brick facades to repair. Structural deficiencies were addressed as they were discovered, typically as a team effort in collaboration with the architect and contractor. The completed project provides 85 apartments on upper floors and office/retail space at street level in this newly redeveloped portion of downtown Toledo.
Show More
Show Less
GEI was an important partner in this challenging project which overlapped strict historic preservation guidelines with buildings that were in need of significant structural repair. GEI was responsive and thorough in coming up with creative solutions for many issues that were not able to be discovered until the substantial interior demolition scope was completed. The buildings may not have been salvageable if they remained unimproved for much longer. The development has received very positive feedback from the community and GEI played an important role in the project's success.

"
- William Goldberg, Buildtech, Ltd. Project Manager