Meet Gei's
Gillian M. Williams, P.E.
Senior Project Manager
Gillian Williams is a project manager and geotechnical engineer with vast experience in dam safety and foundations. Her experience includes dam inspections, seepage and stability analyses, internal filter design for dams, settlement analyses, retaining wall design, subsurface investigations, construction observation, and preparation of geotechnical reports. Gillian has participated in various FERC Part 12D Safety Inspections with a FERC approved Independent Consultant. She is also familiar with risk analysis and decision making for dams.
Beyond dams and other flood control structures, Gillian has also worked on geotechnical investigations for bridges and other transportation and infrastructure projects. She joined GEI in 2008 in the Denver, Colorado office and now works in GEI's Portland, Maine office, but continues to collaborate with clients across the country. She has a B.S. in Civil Engineering from Union College and M.S. in Civil Engineering from Colorado School of Mines.
Connect on Linkedin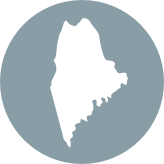 LOCATION
Portland, Maine
Highlights
Licensed Professional Engineer: CO, ME
WTS Member
ASDSO Member
USSD Member
OSHA 10 Hr Construction Safety