Meet Gei's
Michael Carpenter, P.E.
Senior Project Engineer/Project Manager
Michael Carpenter is a Senior Geotechnical and Concrete Materials Engineer in the Marquette, Michigan office. He is a registered professional engineer who specializes in investigations, evaluations, design and construction oversight services for commercial, industrial and municipal projects. Specifically, Mike has over 25 years of experience with concrete gravity and embankment dams, and is experienced with dam safety inspections and evaluations, potential failure mode analyses (PFMA) and risk assessment for existing and new major construction projects. As a result of this experience, he is a FERC-accepted Independent Consultant for Part 12D 5-year safety inspections and PFMA facilitator for high-hazard hydroelectric projects.
Since joining GEI in 2010, Mike has developed a collaborative group of highly technical staff in the Marquette office. The office, which contains over 40 full time staff, provides a wide variety of civil engineering services including site design, hydraulic and hydrology, municipal water and waste water, structural engineering, geotechnical engineering, water resources engineering, construction oversight and laboratory materials testing.
Mike has an M.S. in Geological Engineering and B.S. in Civil Engineering from Michigan Technological University.
Connect on Linkedin
This was a great undertaking and has been a long journey getting to this point. All of your efforts have helped us position our flowlines, penstocks, and surge tanks for the long-term. I feel so much better knowing their condition, and with monitoring strategies in place having confidence in their long-term service. Thank you all for your good work.
- Thomas C. Donofrio, P.E., Director of Engineering Services & Hydro Operations at Minnesota Power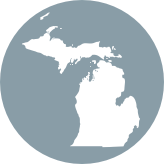 LOCATION
Marquette, Michigan
Highlights
Certified Rope Access Technician under the Society of Professional Rope Access Technicians (SPRAT)
FAA Licensed Commercial Unmanned Aerial System (drone) pilot
Assisted with implementation of the Field Technology Initiative
Assisting with the CAD upgrade and training initiative
Moderator at the 2017 PM Workshop
Licensed Professional Engineer: MN, WI, MI, CO