Meet Gei's
Michael Gatzow, P.E.
Senior Vice President
Michael Gatzow is a licensed Civil Engineer in Michigan, Wisconsin and Colorado with 31 years of experience in consulting engineering. His areas of practice include infrastructure planning, design and construction management for water distribution, supply and storage, wastewater conveyance, storm water, roads, municipal facilities, grant procurement and project financing. Mike has served on several committees within GEI, including GEI's Risk Management Committee since 2010.
In his prior and current capacity within the firm, Mike has provided oversight to a variety of disciplines such as civil, surveying and structural, geotechnical and architectural related services. Mike has served as project manager or project engineer on projects located throughout the United States. He has direct experience in grant writing and financing of projects funded by USDA Rural Development, U.S. Environmental Protection Agency, U.S. Economic Development Administration and various other state and local agencies for new infrastructure and overall economic development.
Mike has a B.S. in Civil Engineering from Michigan Tech University.
Connect on Linkedin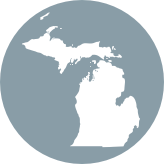 LOCATION
Iron River, Michigan
Highlights
Licensed Professional Engineer: CO, MI and WI
GEI's Risk Management Committee, Member
B.S. Civil Engineering, Michigan Technological University