Meet Gei's
Stuart Kogge, PWS
Senior Wetland/Aquatic Biologist
Stuart (Stu) Kogge, PWS, is a senior wetland/aquatic biologist and a Professional Wetland Scientist with over 35 years of natural resource and wetland experience. He received a Bachelor of Science degree in Fisheries and Wildlife Management in 1983 and Master of Science in Limnology/Fisheries/Aquatic Biology from Michigan State University in 1985. After graduating, Stu worked for the United States Fish and Wildlife Service (USFWS) and Michigan Department of Natural Resources (MDNR) on several projects involving fish and aquatic assessments. In 1986, he took a full-time position with the MDNR Cadillac District office, and administered and enforced the State's various Great Lake, inland lakes and streams, and wetland statutes for the next 10 years. In 1995 Stu was promoted to the State-wide coastal wetlands biologist position stationed out of Lansing, Michigan, and then in 1997 to the State-wide wetlands biologist position. From Lansing, he provided regulatory and enforcement support to field staff throughout the State and continued to provide periodic wetland training to staff statewide.
In 1999, Stu took an early retirement from the MDNR/MDEQ and started a private consulting firm and a non-profit organization, Wetland and Coastal Resources, Inc. (WCR) and The Institute for Wetland and Coastal Trainings and Research, respectively.  From 1999-2008, WCR provided ecological services relating to wetlands, lakes, and streams while the non-profit organization conducted wetland delineation, mitigation and assessment, and botanical plant identification classes that catered to MDNR, MDEQ, Michigan Department of Transportation (MDOT) and other private consulting firms, provided environmental education classes to grade-schoolers and conducted coastal research with the University of Michigan. In 2008, Stu joined JFNew (which became Cardno and now Stantec), serving as their senior wetland/aquatic biologist. Main roles included driving business in the natural resources field of wetlands and aquatics, mentoring and providing wetland and botanical training and consistency oversight for younger staff, and serving as client and/or project manager for numerous clients.
In 2014, Stu left Cardno to join GEI Consultants where he continues to provide these same wetland, aquatic, and regulator services. Stu recently updated his Ohio Mussel certification and holds a USFWS federal permit, enabling GEI's mussel team to handle federally-listed mussel species in Michigan. Stu enjoys being part of GEI's mussel "diving" team conducting these mussel surveys and relocations across the Midwest.
His greatest assets are his many years of experience and relationships with the regulatory agencies, extensive knowledge of wetlands, plant, and aquatic communities, his ability to strategize and tackle complex or daunting projects and leading clients through the most difficult regulatory processes/projects.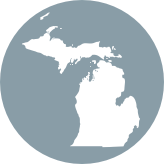 LOCATION
Traverse City, Michigan