Meet Gei's
Ginger G. Gillin
Vice President/Principal Environmental Scientist
Ginger Gillin is a Certified Fisheries Professional and environmental scientist with almost 40 years of experience as a fisheries scientist and project manager. Her specialty is regulatory authorizations for water resources projects, including Federal Energy Regulatory Commission licensing of hydropower projects. She also works on California Environmental Quality Act and National Environmental Policy Act compliance for wells, pipelines, water conservation projects, and groundwater banks in southern California. Her project experience has also involved Decision Support Systems for managing thermal conditions in river systems below dams, fish passage planning, fisheries monitoring and watershed-scale conservation planning. She has special expertise in the biology and management of the Federally-listed bull trout (Salvelinus confluentus).
Ginger holds a M.S in Wildlife Biology (Aquatic Option) from the University of Montana and a B.A. in Geography from the University of Colorado
Connect on Linkedin
Ginger Gillin is an irreplaceable member of our team. Her NEPA and CEQA expertise and her ability to quickly evaluate the most important issues confronting a particular project and recommend creative solutions are second to none.
- Steve Lowe, President of Eagle Crest Energy Company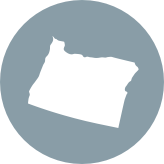 LOCATION
Portland, Oregon
Highlights
Recipient of the Women with HydroVision award, 2022
• Invited panelist, Federal Energy Regulatory Commission Panel on Development of Closed Loop Pumped Storage at Abandoned Mine Sites, April 2019
Past President, Montana Chapter American Fisheries Society
Member, Department of Energy's Hydropower Vision, Pumped Storage Task Force, 2014 – 2016
Conference Planning Committee, HydroVision 2013 and 2022
Editorial Board, HydroReview Magazine, 2013 – present
Approved Third-Party Dispute Resolution Panelist, Federal Energy Regulatory Commission, 2010 – present
Montana Chapter American Fisheries Society, Fisheries Worker of the Year, 1996.