Award or Recognition
Gillian Gregory receives UMass Amherst Distinguished Alumni Award
June 1, 2022
Gill Gregory has been honored with the Distinguished Alumni Award from the University of Massachusetts Amherst's College of Engineering. Gill earned her master's degree from UMass in civil engineering in 1982 and her Ph.D. degree specializing in geotechnical engineering in 1986.
The Distinguished Alumni Award celebrates visionary leaders in their respective fields. The recipients have reached exceptional levels of professional and personal achievement. The award recognizes distinguished leadership, service, teaching, innovation, and other commendable accomplishments that positively impact society and the engineering profession. In addition to her long career as a project manager, Gill served on the Board of Directors for six years, with two years as Chair. She currently sits on the UMass Amherst College of Engineering Dean's Advisory Council and has established a graduate student scholarship fund to support excellence in geotechnical studies.
A geotechnical engineer specializing in dam safety, Gill has spent her entire career with GEI. In the early days, she worked on a variety of projects, including building foundation projects, bridges, and dams. In the early 1990s, she worked on the "Big Dig" Central Artery/Tunnel Project in Boston, one of the largest, most challenging highway projects in the history of the United States, preparing geotechnical engineering reports for the underground tunnels and one of the bridges.
Gill spent two and a half years in our Carlsbad, California, office in the early 1990s working on San Diego County's Emergency and Carryover Storage Project, which was designed to provide a 6-month supply of drinking water to the county in the event that the aqueducts bringing water from the Colorado River are damaged in an earthquake. The project included new dams and pipelines and it received the 2017 American Society of Civil Engineers (ASCE) Outstanding Civil Engineering Achievement (OCEA) Award.  More recently, Gill has focused on dam safety, performing studies and safety inspections for clients such as the Tennessee Valley Authority, Pacific Gas & Electric, and Southern California Edison. In 2017, Gill was presented with the University of Massachusetts Civil and Environmental Engineering Department's Academy of Distinguished Alumni Award.
Congratulations to Gillian on this unique accomplishment in recognition of her exemplary career!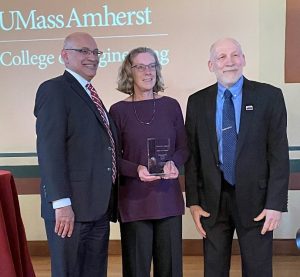 Dr. Sanjay Raman, Dean of the College of Engineering, Dr. Gillian Gregory, Dr. John Tobiason, head of the Department of Civil Engineering.