Newsletter
California Environmental Insights Dec. 2017, Project Updates
December 28, 2017
Successful Construction Season on the West SAFCA Southport Levee Improvement Project

The GEI Environmental Team is assisting the West Sacramento Area Flood Control Agency (WSAFCA) with
environmental compliance during construction of the Southport Levee Improvement Project. GEI biologists
began conducting preconstruction clearance surveys in December 2016. Construction commenced in May
2017 and will continue for another 1–2 years. GEI is providing construction and compliance monitoring.
In 2017, GEI biologists conducted surveys and monitoring for bats, potential giant garter snake habitat,
nesting birds and bird nests, and Swainson's hawk and other special-status raptors, as required in the project's
Mitigation Monitoring and Reporting Program and permit terms.
Looking back on the 2017 construction season, the GEI Environmental Team provided a variety of biological
services and overcame many challenging circumstances. During peak construction activity, up to four biologists
were onsite conducting construction monitoring and pre-construction surveys. As construction activities
progressed, less biological monitoring became necessary. Communication is critical to successful fieldwork,
and GEI's field crews use a number of online database tools to provide real-time data management and keep all
parties – GEI, WSAFCA, and contractors – as informed as possible in real time.
GEI Contact: Eric Htain, ehtain@geiconsultants.com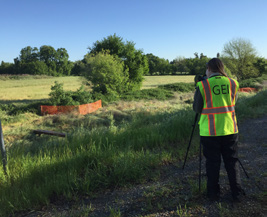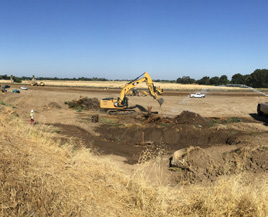 Court Upholds Monterey Plus Revised EIR

Two previous EIRs (Monterey Agreement and Monterey Plus) were prepared by the California Department of
Water Resources (DWR) to evaluate aspects of State Water Project long-term water supply contracts including
transferring ownership of approximately 20,000 acres of land from DWR to the Kern County Water Agency.
After several court rulings, DWR was required to re-evaluate the property transfer and conduct further
evaluations of Kern Water Bank development, use, and operation in a Revised EIR. As a major subcontractor,
GEI VP and Sr. Project Manager Phil Dunn led completion of the three-volume Monterey Plus Revised EIR.
Phil worked closely with the Attorney General's Office and DWR's South Central Region Office, State Water
Project Analysis Office, and Office of the Chief Council staff to meet the court-ordered requirements.
Petitioners alleged to the court that this new Revised EIR failed to properly identify and address significant
environmental impacts (especially on water supply, water reliability, Delta exports, and crop conversion),
cumulative impacts, mitigation measures, and comments on the Draft EIR. On October 2, 2017, in Center for
Food Safety, et al. v. DWR, Judge Timothy Frawley ruled that the Revised EIR provided substantial evidence to
support its conclusions in all cases. The court also found that "the Revised EIR provides a 'good faith, reasoned
analysis' in response to the comments submitted." Finally, the court denied the petition and ruled in DWR's
favor.
GEI Contact: Phil Dunn, pdunn@geiconsultants.com