Press Release
Candace Baker joins GEI's team as Senior Environmental Professional
May 17, 2023
Site remediation expert brings extensive insight and experience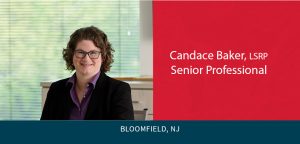 Bloomfield, New Jersey (May 18, 2023) – Candace Baker, LSRP has joined GEI's Bloomfield office as a Senior Environmental Professional. With over 25 years of experience in site characterization, remediation, and environmental due diligence, Candace is a valuable addition to GEI's well-established team of seasoned, client-focused professionals practicing throughout northern New Jersey.
Candace has an extensive background in managing and executing remediation projects for a wide range of private sector and governmental clients. Her recent experience includes warehouse sites for property development, multiple manufactured gas plant sites for major utility clients, underground storage tank removal, and development of a new charter school.
With her expertise in site remediation and due diligence assessment, Candace has consistently helped clients achieve their business and redevelopment targets while ensuring timely regulatory compliance. She is an active member of the Licensed Site Remediation Professionals Association (LSRPA), where she serves on the Board of Trustees as the Vice President of Internal Affairs.
"We are thrilled to welcome Candace to our team," said Sharon McSwieney, Vice President and Branch Manager. "Her familiarity and knowledge of NJDEP's Site Remediation Program will enable us to better serve our clients and help them maximize their property's value. We believe that her addition to our team will significantly strengthen our position in the industry and contribute to the growth of our company."
Candace will be responsible for overseeing remediation and redevelopment projects and ensuring that they are consistent with New Jersey's complex regulatory paradigm. She will be working closely with property owners, facility operators, and acquisition groups to understand their site use and redevelopment plans and providing them with environmental and engineering solutions that align with their goals.
"I am very excited to join GEI," said Candace. "I am looking forward to working with the team to help our clients reach their objectives while ensuring our projects are executed in an environmentally responsible manner."
About GEI: GEI Consultants, Inc. is a consulting engineering firm that delivers professional services that improve our world's built environment. With more than 1,240 staff and 47 offices in North America, GEI is a leader in providing multi-disciplined engineering and environmental services to a range of private and public sector clients, both domestically and abroad.
As a member of the employee-owned GISI family of companies, we foster personal relationships with our clients and support our staff in a partnership model, which is underpinned by continuous learning and sharing of knowledge. We retain proven, recognized experts and attract the best minds to deliver to our clients a refreshing blend of technical expertise, collaborative spirit, and innovation that is rare in our profession. We engineer solutions in five primary end markets: Water Resources, Energy, Buildings, Infrastructure, and Industrial. For more information on GEI, please visit www.geiconsultants.com.