Press Release
In Memoriam: Clyde Baker. Geotechnical visionary. Beloved friend. Mentor.
September 11, 2022
Clyde N. Baker, Jr., P.E., S.E., has died at age 92. Clyde, who had a long, close relationship with GEI, will be remembered as a brilliant and visionary geotechnical engineer who achieved national and international recognition for his work in deep foundation design. Clyde's contributions to the geotechnical field are almost immeasurable and his leadership and mentorship will be greatly missed.
But those who knew Clyde were impacted not only by his expertise and insight, but even more so by his generosity, kindness, and outlook on life.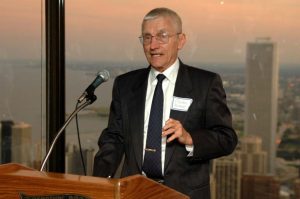 "Clyde, as a person, tops all of his professional achievements," says GEI's CEO Ron Palmieri. Ron worked alongside Clyde for many years. "He was one of the kindest and most giving people I have ever worked with. My best professional experience with Clyde was his ability to mentor and make sure the light shone on us, the developing engineers. He had no ego."
Clyde's personal demeanor, altruism, and genuine caring nature made him stand out. On his 60th birthday Clyde ran 60 miles, raising $10,000 for Alzheimer's research.
"We will all miss him dearly as Clyde's contributions to our profession are too numerous to count," says Clyde's close friend and colleague, Bill Walton. "But, above all, he was a kind and generous man. I never saw him angry. He always had a great smile and he never walked – just jogged around the office. He was always laughing at life."
Clyde received his B.S. and M.S. degrees in Civil Engineering from the Massachusetts Institute of Technology and a B.S. degree in Physics from William and Mary College. He joined the staff at STS Consultants, Ltd. (formerly Soil Testing Services) in the fall of 1954, where he subsequently served as Chairman, Chief Engineer and Senior Vice President for more than 55 years. Clyde was a pioneer of modern-day geotechnical practice. He advanced the deep foundation industry, building and advancing the current standards for evaluating and designing deep foundations for tall buildings. Clyde's fingerprints are all over Chicago on buildings including the Sears (now Willis) Tower, Trump Tower, the John Hancock Building, the Spire, and the Amoco Building. Test methods that Clyde implemented in Chicago helped prove that soil and bedrock can safely support big loads, well above Building Code suggested recommendations which led to his key involvement in designing or peer reviewing some of the world's tallest skyscrapers, including the world's current tallest building, the 828-m Burj Khalifa in Dubai, 101 Financial Center in Taipei, the Petronas Towers in Kuala Lumpur, the Doha Convention Center and Tower in Qatar, and the Incheon 151 Towers in Oncheon, South Korea
Over the course of his 65-year career, Clyde shared his knowledge and experience with his peers through numerous conference and university lectures, technical articles, papers and publications. He was the recipient of the Deep Foundations Institute's Distinguished Service Award, the Association of Drilled Shaft Contractor's (ADSC) Outstanding Service Award, the American Society of Civil Engineer's (ASCE) Thomas A. Middlebrooks and Martin S. Kapp Awards, the Structural Engineers Association of Illinois (SEAOI) prestigious John F. Palmer Award, as well as the recipient of three Meritorious Publication Awards from SEAOI, including the "History of Chicago Building Foundations 1948 to 1998". He was the author of "The Drilled Shaft Inspectors' Manual", sponsored jointly by the Deep Foundation Institute and the ADSC-International Association of Foundation Drilling. In 2008, he received the 2007 Engineering News Record Award of Excellence and the ASCE Opal Lifetime Achievement Design Award.
Clyde was also active professionally on both the local and national scene. He was an Honorary Member of ASCE. He was a past President of SEAOI and of the Chicago Chapter of the Illinois Society of Professional Engineers (ISPE). Nationally, he served as Chair of the Geotechnical Engineering Division of ASCE, Editor of the Geotechnical Engineering Journal, and Chair of ACI Committee 336 on Footings, Mats and Drilled Piers. He was a member of the National Academy of Engineering and was the recipient of the ASCE Ralph B. Peck Award for the year 2000, the Terzaghi Lecture Award in 2009, and was selected as a Hero of Geotechnical Engineering by the Geo-Institute in 2009.
It was our privilege to work with Clyde and to call him a friend. Below is a selection of reflections on Clyde's life from his friends and coworkers here at GEI.
"Clyde was the premier foundation engineer for Chicago foundations. During his career, Clyde innovated and developed foundation recommendations and procedures that we use as standards of practice today. These are the things that have made the skyscrapers in Chicago, and around the world, reach new heights. As much as Clyde was a ground-breaking engineer, he was even more so a kind and generous person and mentor, and we all owe him more than a debt of gratitude for the success we've achieved." – Bob Acker
"He was so energetic and sharp brained. The memories we made and hold on to shall serve as a reminder for how lucky we were to have Clyde in our work lives." – Patrick Chang
"He was an outstanding engineer. He was open-minded and willingly embraced change and new ideas. Above all he was just a gentleman and a very generous soul." – Bernie Hertlein
"I first met Clyde in 1986 when I joined STS Consultants as a field engineer. I was a bit intimidated when I was assigned my first high-rise project with Clyde. He was welcoming, enthusiastic, and encouraging. He once told me that technical knowledge and experience are important, but there is no substitute for a positive attitude. I have always been struck by Clyde's knowledge of soil mechanics, but more so by his practicality and ability to capture a room and convey technical concepts in a way that others could understand. The value he brought to complex projects was admitted by colleagues and clients alike. Clyde had a wonderful sense of humor, and his laugh was contagious. I believe that those who worked with Clyde over the decades were most impacted by his kindness and humility. Not only did he make us all better consultants, but he made us better people along the way." – Jamie Matus
"In my almost 30 years in the industry, I have never encountered a professional who could command a room and provide confidence to all like Clyde Baker did – regardless of where in the world that room was located. I had the privilege of working with clients and on projects globally with Clyde and his presence in the room was derived from not only his unmatched technical expertise but from a humble and positive personality that made everyone feel heard and respected. He was a problem solver and taught patience and empathy to everyone's perspectives on a project. He will be sorely missed." – Scott Wallington
"As a young engineer at STS, I remember Clyde as someone who always treated people with a great deal of respect and who was always very humble and unassuming. He was an unselfish person who always took the time to respond to questions and requests for his time to review calculations and reports. In addition to being a great human being, he also epitomized being a great mentor." – Mike Wheeler