Press Release
GEI Captures Phoenix Award for Conley Terminal's Berth 10 Project
November 13, 2023
Awards recognize extraordinary brownfields redevelopment practitioners and projects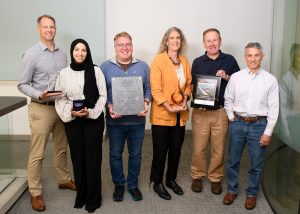 Boston, MA (November 13, 2023) – GEI Consultants captured a prestigious Phoenix Award for the firm's brownfields remediation work on Massachusetts Port Authority's (Massport's) Conley Terminal Modernization – Berth 10 project. Presented at the 2023 National Brownfields Training Conference, the Phoenix Awards recognize high quality brownfields projects and their achievements around the country.
The Conley Terminal Modernization – Berth 10 project was recognized as the winner for EPA Region 1, which encompasses Connecticut, Maine, New Hampshire, Rhode Island, Vermont, and Massachusetts.
"The Berth 10 project is significant for many reasons because it represents such an important effort for the region, and our teams had to get creative in what we did from a remediation and removal perspective," said GEI's Senior Vice President Ileen Gladstone. "This award is a testament to our team, our partners, and all those involved with seeing this project from its initial concept and design through construction completion."
Massport's Paul W. Conley Container Terminal is a vital economic asset for the Commonwealth of Massachusetts and New England. The Berth 10 project was a critical part of expanding the terminal so that it could accommodate ultra-large "New Panamax" cargo vessels. But GEI's design of the new berth expanded the port's facilities onto a former contaminated oil terminal. That required a significant remediation effort to ensure that no historical contamination would seep into and contaminate the adjacent surface waters of Boston Harbor.
No urban fill, oily soil, or sediment was transported for off-site disposal in landfills. Instead, it was treated, rendered inert, or processed and retained onsite. Ninety-one thousand cubic yards of material were made inert by in situ stabilization, processed with onsite materials to produce a granular aggregate base course suitable as a pavement sub-base, or disposed of in a confined aquatic disposal cell in the harbor.
This comprehensive materials management approach eliminated more than 12,000 truck trips for off-site disposal and the import of sub-base material through adjacent residential neighborhoods.
The Phoenix Award is the latest honor GEI has received for its work on the Conley Terminal Berth 10 Project. Additional awards include:
2023 ACEC Massachusetts Grand Conceptor Award of Engineering Excellence
2022 Engineering News Record New England Project of the Year
2022 Environmental Business Council of New England's James D.P. Farrell Award for Brownfields-Remediation Project of the Year
2022 Construction Management Association of America New England Chapter Than $100M
2022 Coastal, Oceans, Ports & Rivers Institute Project Excellence Award
2021 American Association of Port Authorities Environmental Improvement Award of Merit
2020 American Association of Port Authorities Facilities Engineering Award of Merit
###
About GEI: GEI Consultants, Inc. is a consulting engineering firm that delivers professional services that improve our world's built environment. With more than 1,440 staff and 57 offices in North America, GEI is a leader in providing multi-disciplined engineering and environmental services to a range of private and public sector clients, both domestically and abroad.
As a member of the employee-owned GISI family of companies, we foster personal relationships with our clients and support our staff in a partnership model, which is underpinned by continuous learning and sharing of knowledge. We retain proven, recognized experts and attract the best minds to deliver to our clients a refreshing blend of technical expertise, collaborative spirit, and innovation that is rare in our profession. We engineer solutions in five primary end markets: Water Resources, Energy, Buildings, Infrastructure, and Industrial. For more information on GEI, please visit www.geiconsultants.com.