Press Release
Geoff Lay joins GEI Canada as Senior Geotechnical Engineer
September 7, 2023
Technical expert strengthens GEI's geotechnical services in Southwestern Ontario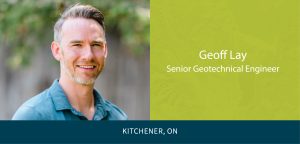 Kitchener, Ontario (September 7, 2023) – Geoff Lay has joined GEI Consultants as a Senior Geotechnical Engineer. With more than 10 years of experience, Geoff has managed a wide variety of projects involving subsurface investigation, design of highway embankments and bridge foundations, slope stability and settlement analysis, and shallow and deep foundations design.
"Having Geoff Lay come onboard, and being situated in the Guelph/Kitchener region, solidifies the geotechnical services GEI can provide throughout Western Ontario," says Alexander Winkelmann, P.Eng., GEI's Geotechnical and Earth Sciences Manager. "We believe that with Geoff on our team, our clients will receive unparalleled geotechnical guidance and innovative solutions tailored to their distinct challenges."
Geoff is also qualified through the Ontario Superior Court of Justice to comment on geotechnical engineering related matters in civil litigation proceedings.
"I'm excited to join GEI, where value creation and interpersonal relationships are part of the company's core values," says Geoff. "I am looking forward to working with the talented team at GEI to provide professional services of exceptional value to our clients."
Geoff holds a B.A.Sc. degree in Civil Engineering and M.A.Sc. degree in Geotechnical Engineering from Queen's University in Kingston, Ontario. He is also a member of the Professional Engineers of Ontario (PEO).
###
About GEI: GEI Consultants, Inc. is a consulting engineering firm that delivers professional services that improve our world's built environment. With more than 1,440 staff and 54 offices in North America, GEI is a leader in providing multi-disciplined engineering and environmental services to a range of private and public sector clients, both domestically and abroad.
As a member of the employee-owned GISI family of companies, we foster personal relationships with our clients and support our staff in a partnership model, which is underpinned by continuous learning and sharing of knowledge. We retain proven, recognized experts and attract the best minds to deliver to our clients a refreshing blend of technical expertise, collaborative spirit, and innovation that is rare in our profession. We engineer solutions in five primary end markets: Water Resources, Energy, Buildings, Infrastructure, and Industrial. For more information on GEI, please visit www.geiconsultants.com.