Press Release
GEI Consultants Captures 2023 ACEC MA Grand Conceptor Award
April 26, 2023
Massport's iconic Conley Terminal Modernization receives State Recognition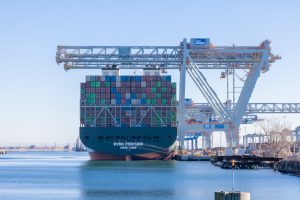 Boston, MA (April 26, 2023) – GEI Consultants captured the Grand Conceptor award for the firm's work on Massachusetts Port Authority's (Massport's) Conley Terminal Modernization – Berth 10 project. The award was presented by the Association of Consulting Engineering Companies (ACEC), MA, which honors the state of Massachusetts' top engineering achievements.  GEI accepted the Grand Conceptor award on March 27 at the ACEC Awards Gala.
Berth 10 is a critical component of Massport's $850 million revitalization plan to maintain its competitiveness and direct, global connectivity by investing in the Port of Boston's infrastructure. As engineer of record on the project, GEI led a team of nine other consultants and worked in collaboration with Massport and the contractor, D.W. White, to create and implement the modernization program's design and see it through construction completion.
Massport's Paul W. Conley Container Terminal is a vital economic asset for the Commonwealth of Massachusetts and New England, and construction of the new deep-water Berth 10 allowed it to accommodate ultra-large "New Panamax" cargo vessels built after the Panama Canal expansion. Without Berth 10, Conley Terminal would not have been able to accommodate the New Panamax vessels. Any diverted cargo traffic would have shipped through the Ports of New York or Halifax and traveled through already crowded roadways to return to New England, resulting in significant traffic and pollution.
The $174 million project involved design of a 1,275-foot-long by 110-foot-wide pile supported wharf with a 65-ton capacity ship-to-shore crane rail foundation; a fender and mooring system; a steel sheet pile bulkhead; dredging up to -50 MLLW; and remediation and in situ soil stabilization of contaminated soil at a brownfield site. Construction was completed in four phases over a period of 29 months, with no time lost due to the COVID-19 pandemic.
No urban fill, oily soil, or sediment was transported for off-site disposal in landfills. Instead, it was treated, rendered inert, or processed and retained onsite. Ninety-one thousand cubic yards of material were made inert by in situ stabilization, processed with onsite materials to produce a granular aggregate base course suitable as a pavement sub-base, or disposed of in a confined aquatic disposal cell in the harbor. This comprehensive materials management approach eliminated more than 12,000 truck trips for off-site disposal and import of sub-base material through adjacent residential neighborhoods.
The completion of Berth 10 made it possible for the Port of Boston to accommodate New Panamax cargo vessels up to 14,000 TEU and 22 containers wide. Previously, Conley was designed for 5,000 TEU ships, and could handle those of up to 10,000 TEUs only under certain conditions. As proof of the project's success, on January 16, 2022, the 12,100 TEU Ever Fortune docked at Berth 10, and in November 2022, it accommodated COSCO Shipping's ALPS, a 14,500 TEU cargo vessel. They were the largest container ships ever to call on the Port of Boston.
###
About GEI: GEI Consultants, Inc. is a consulting engineering and environmental firm that delivers professional services that improve our world's built environment. With more than 1,000 staff and 47 offices in North America, GEI is a leader in providing multi-disciplined program management, engineering, environmental and construction management services to a range of private and public sector clients, both domestically and abroad.
As a member of the employee owned GISI family of companies, we foster personal relationships with our clients and support our staff in a partnership model, which is underpinned by continuous learning and sharing of knowledge. We retain proven, recognized experts and attract the best minds to deliver to our clients a refreshing blend of technical expertise, collaborative spirit, and innovation that is rare in our profession. We engineer solutions in five primary end markets: Water Resources, Energy, Buildings, Infrastructure, and Industrial. For more information on GEI, please visit www.geiconsultants.com.www.geiconsultants.com.