Press Release
Leslie Parker joins GEI's Sacramento, CA office as Senior Ecologist and Wetland Scientist
May 16, 2023
Professional Wetland Scientist brings wide range of expertise in botanical and ecological engineering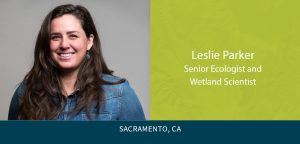 Sacramento, CA (May 16, 2023) – GEI Consultants announced that Leslie Parker has joined the firm's Sacramento office as a Senior Ecologist and Wetland Scientist. Leslie brings a breadth of experience, including leading botanical and wetland surveys, conducting environmental permitting and analyses, and developing mitigation plans.
"As a Senior Ecologist with her expertise in botany, Leslie is leading our team's botanical services, which include rare plants surveys, arborist evaluations, and large-scale vegetation mapping," says GEI Senior Wildlife Biologist Kelly Fitzgerald-Holland. "Her strong skills in delineating wetlands and developing wetland permits rounds out our team's full delivery of environmental services for our clients."
Leslie is experienced in navigating a range of biological issues for projects. Her areas of focus include botanical and wetland ecology, along with associated impact analyses and permitting through the U.S. Army Corps of Engineers, California State Water Resources Control Board, and California Department of Fish and Wildlife.
"I chose GEI for the opportunity to work with a diverse and talented team of technical professionals," says Leslie. "I am excited to contribute my own strengths towards project delivery while continuing to learn and grow by working with leaders and peers in other disciplines."
About GEI: GEI Consultants, Inc. is a consulting engineering firm that delivers professional services that improve our world's built environment. With more than 1,240 staff and 47 offices in North America, GEI is a leader in providing multi-disciplined engineering and environmental services to a range of private and public sector clients, both domestically and abroad.
As a member of the employee-owned GISI family of companies, we foster personal relationships with our clients and support our staff in a partnership model, which is underpinned by continuous learning and sharing of knowledge. We retain proven, recognized experts and attract the best minds to deliver to our clients a refreshing blend of technical expertise, collaborative spirit, and innovation that is rare in our profession. We engineer solutions in five primary end markets: Water Resources, Energy, Buildings, Infrastructure, and Industrial. For more information on GEI, please visit www.geiconsultants.com.