Press Release
Michael Scurlock joins GEI's Denver, Colorado office as a Senior Hydraulic Engineer
July 5, 2023
Open-channel hydraulics design engineer brings experience in river engineering and fluvial geomorphology applications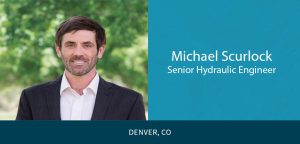 Denver, CO (July 5, 2023) – GEI Consultants has announced that Michael Scurlock has joined the firm's Denver office as a Senior Hydraulic Engineer. With 15 years of practical experience in hydraulic engineering and fluvial geomorphology, Michael uses state-of-the-art hydraulic analysis and design tools, including Computational Fluid Dynamics (CFD), to comprehensively assess and evaluate surface water systems.
"Michael's high caliber numerical modeling skills combined with his experience in fluvial geomorphology are unique to private sector and traditional engineering consulting," says GEI Senior Fluvial Geomorphologist Tom Smrdel, "His technical strengths, great attitude, and long history of developing and delivering solutions make Michael a tremendous asset to our team."
Michael's project experience includes a diverse range of water, sediment, and habitat-related projects. His work includes building channel processes to enhance floodplain projects through defensible quantitative analysis and offering solutions to flow-related design challenges.
"GEI offers an opportunity to join an industry leading team of professionals coupled with sustainable growth goals, a positive culture, and a strong reputation. GEI is well positioned to tackle large-scale river engineering, water resources, and associated infrastructure projects with an environmentally responsible focus," says Michael. "I hope to apply my expertise and skillset as a member of our team to help our clients and improve our rivers and environment."
About GEI: GEI Consultants, Inc. is a consulting engineering firm that delivers professional services that improve our world's built environment. With more than 1,240 staff and 54 offices in North America, GEI is a leader in providing multi-disciplined engineering and environmental services to a range of private and public sector clients, both domestically and abroad.
As a member of the employee-owned GISI family of companies, we foster personal relationships with our clients and support our staff in a partnership model, which is underpinned by continuous learning and sharing of knowledge. We retain proven, recognized experts and attract the best minds to deliver to our clients a refreshing blend of technical expertise, collaborative spirit, and innovation that is rare in our profession. We engineer solutions in five primary end markets: Water Resources, Energy, Buildings, Infrastructure, and Industrial. For more information on GEI, please visit www.geiconsultants.com.