Press Release
GEI's Shelley Lohnes Appointed to COSSARO
October 11, 2023
Committee instrumental in contributing to species protection and recovery in Ontario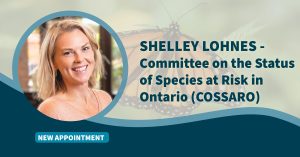 TORONTO, ON (October 11, 2023) – GEI's Shelley Lohnes has been appointed by the Lieutenant Governor of Ontario and the Executive Council of Ontario to serve as a member of the Committee on the Status of Species at Risk in Ontario (COSSARO). COSSARO is an independent committee of experts who consider which plants and animals should be listed as at risk in the province of Ontario. The committee's 12 members bring expertise in scientific disciplines or community knowledge or Aboriginal traditional knowledge.
Shelley will serve a three-year term on the committee and play an instrumental role in contributing to the protection and recovery of species at risk in the province.
"I'm deeply honoured and humbled to have been entrusted with this important role by the Province of Ontario," said Shelley. "Serving on COSSARO provides me with an incredible opportunity to contribute to the conservation of our province's biodiversity, alongside a respected group of experts and peers. Together, we'll strive to protect and preserve Ontario's precious flora and fauna for future generations."
Shelley Lohnes is Vice President, Branch Lead and Senior Ecologist for GEI Canada. She has served as a natural sciences lead on a variety of multi-disciplinary projects for sectors including infrastructure, renewable energy, transportation, and land development.
About GEI: GEI Consultants, Inc. is a consulting engineering firm that delivers professional services that improve our world's built environment. With more than 1,440 staff and 55 offices in North America, GEI is a leader in providing multi-disciplined engineering and environmental services to a range of private and public sector clients, both domestically and abroad.
As a member of the employee-owned GISI family of companies, we foster personal relationships with our clients and support our staff in a partnership model, which is underpinned by continuous learning and sharing of knowledge. We retain proven, recognized experts and attract the best minds to deliver to our clients a refreshing blend of technical expertise, collaborative spirit, and innovation that is rare in our profession. We engineer solutions in five primary end markets: Water Resources, Energy, Buildings, Infrastructure, and Industrial. For more information on GEI, please visit www.geiconsultants.com.