Press Release
Underhill Engineering Team Joins GEI Consultants
October 17, 2023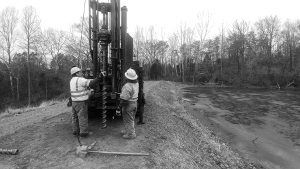 Charlottesville, VA (Oct. 17, 2023) – The experts from Underhill Engineering have joined consulting engineering and environmental firm GEI Consultants.
Former Underhill President, Chris Webster, P.E., F. ASCE, will now serve as GEI's Geotechnical Practice Leader. As part of GEI, Chris and his team of geotechnical, geo-design, dam restoration and safety, and geo-construction professionals will continue supporting public and private clients in Virginia, West Virginia, and Maryland.
"We are excited to welcome Chris and his team to GEI," says Jesus Gomez, PhD, PE, Geostructural Practice Leader and Vice President at GEI. "Chris is an industry veteran who has significant experience executing complicated geotechnical projects throughout Virginia and the mid-Atlantic Area. We look forward to working with them moving forward."
Chris has 40 years of experience in the industry providing professional engineering services for federal/state/local government, owners, developers, AE firms, lenders, attorneys, and contractors. Their team's high-profile projects include dam/stream restorations, roads/bridges/tunnels, walls/slopes, commercial/industrial facilities, estates/farms/agri-tourism, and forensic studies. Chris holds a Master of Science in Civil Engineering from Virginia Tech, and a Bachelor's of Science in Civil Engineering from the University of Virginia. He is a Thomson Reuters-registered expert witness and past adjunct instructor at the University of Virginia.
Also joining GEI from Underhill are:
Susan Ray, P.E., GIT, a geotechnical engineer with experience in a variety of observation and testing services, as well as creating proposals and preliminary drilling plans.
Grace Psenicska, a geotechnical geologist with experience in both geophysics and 3D modeling research.
Kate Tryon, a seasoned business administrator with 15 years of experience.
About GEI: GEI Consultants, Inc. is a consulting engineering firm that delivers professional services that improve our world's built environment. With more than 1,440 staff and 57 offices in North America, GEI is a leader in providing multi-disciplined engineering and environmental services to a range of private and public sector clients, both domestically and abroad.
As a member of the employee-owned GISI family of companies, we foster personal relationships with our clients and support our staff in a partnership model, which is underpinned by continuous learning and sharing of knowledge. We retain proven, recognized experts and attract the best minds to deliver to our clients a refreshing blend of technical expertise, collaborative spirit, and innovation that is rare in our profession. We engineer solutions in five primary end markets: Water Resources, Energy, Buildings, Infrastructure, and Industrial. For more information on GEI, please visit www.geiconsultants.com.