Construction of a New Lock at the Soo Locks
Located at the mouth of the St Marys River between two of the Great Lakes (Superior and Huron), the Soo Locks facility is a one-of-a-kind facility managed and operated by the U.S. Army Corps of Engineers, Detroit District. Each year, approximately 80 million tons of commercial commodities and about 10,000 ships pass through these locks.
Over the next decade, a new lock will be built to accommodate larger ships that can now only pass through the Poe Lock. The new $3.2 billion lock will replace the Sabin and Davis Locks, both of which are now closed to ship traffic.
The project will be completed in three phases:
Phase I – Upstream approach channel deepening to accommodate the draft of larger ships passing through the new lock (2018-2021).
Phase 2 – Construction of new upstream approach walls and related infrastructure (2021-2024).
Phase 3 – Construction of the new lock (2023-2028).
The GEI team has been on the job since day one, installing and monitoring geotechnical instrumentation near critical infrastructure during rock removal for the upstream channel deepening. Key infrastructure that spans the lock system included the international highway bridge from the US to Canada and the railroad bridge built in 1887.
Phase 2 is ongoing and includes the construction of new approach walls. In this phase, GEI:
continues Phase 1 instrumentation monitoring and reporting
developed a data management system to store, manage, and report on construction data across the site
performs construction material testing for all concrete, aggregate, and steel
and operates and maintains a USACE-validated materials testing laboratory on site.
GEI was recently awarded Phase 3, which is scheduled to be completed in 2028. Here, GEI will perform:
Construction data management and reporting
Foundation drilling, rock core logging and downhole geophysics, including over 10,000 lineal feet of drilling and rock coring
Monitoring of critical infrastructure using a new instrumentation network to be installed surrounding the new lock during site dewatering, and construction of the new lock chamber. Like Phases 1 and 2, an Automated Data Acquisition System (ADAS) will be used to provide real time data review of instrumentation data, and
all construction materials testing and on-site laboratory support, including inspection and testing of concrete, aggregates, and structural steel. Our team will also provide inspection of slurry walls, rock anchors, rock excavation and drilled shafts, and complete of structural condition surveys of historic lock structures.
When the new lock is complete, 1,000-foot vessels will have two navigation options, providing redundancy in the event either lock is damaged or requires maintenance.
Show More
Show Less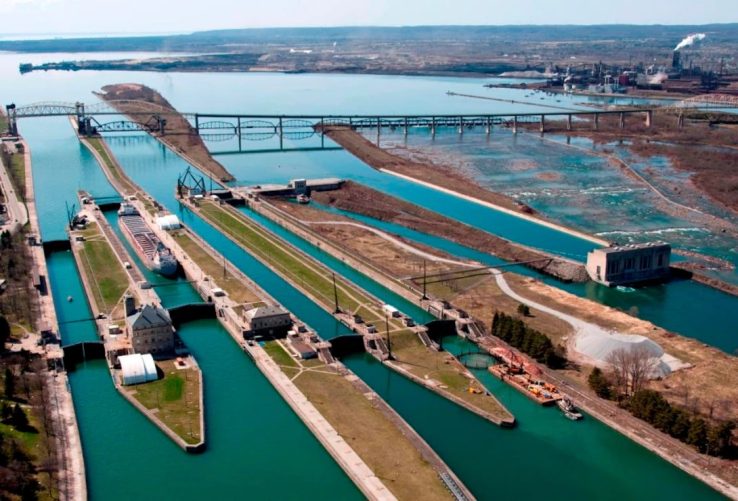 Key Challenges
The project construction specification is somewhat unique in that it requires all instruments to be installed, operating, and accurately recording all data prior to commencement of earthwork or significant construction activities. As a result, at the beginning of each phase, all eyes were on GEI to complete its work and demonstrate that the ADAS was accurately recording all data as required in the specification. Other challenges include the development and management of the Construction Data Management System which includes the input and organization of multiple data types.
Show More
Show Less