New Bedford Harbor – Marine MGP & Tar Facility Remediation
The site was located adjacent to the Eversource (formerly NSTAR) Gas Facility in New Bedford, Massachusetts. The property adjacent to the site was used as a Manufactured Gas Plant (MGP) from the 1880s to 1960s with a portion of the site being used as a tar processing facility from the 1930s to 1960s. The tar processing facility used a waterside offloading area for off-loading coal tar from barges brought to the facility for processing.
In 1996 the U.S. Coast Guard observed sheen in New Bedford Harbor that was emanating from the waterside offloading area. Upon notification of the sheen, the property owner, NSTAR Gas Company, took efforts to minimize the migration of the sheen to the harbor and began sediment investigations to determine the limits of the coal-tar impacted sediment. The results of the investigation determined that the likely source of the tar in the sediment and resulting sheen was the historical releases that occurred from the manufactured gas plant and coal tar processing facilities. GEI was retained to develop Remedial Action Alternatives for addressing the remedial objectives of the waterside contamination.
Show More
Show Less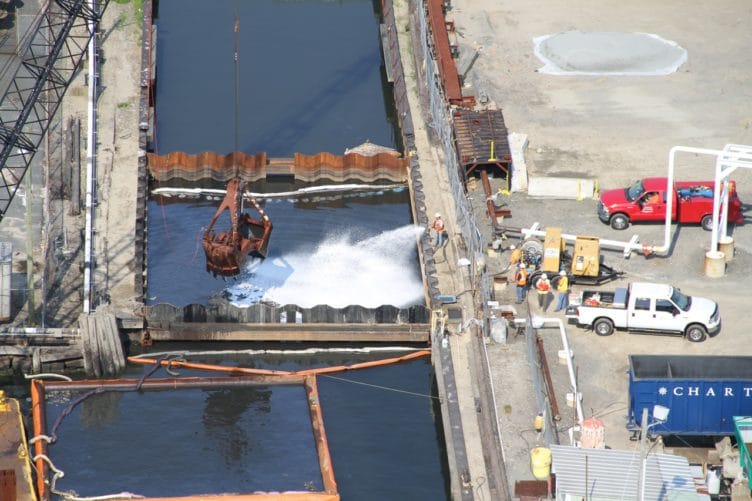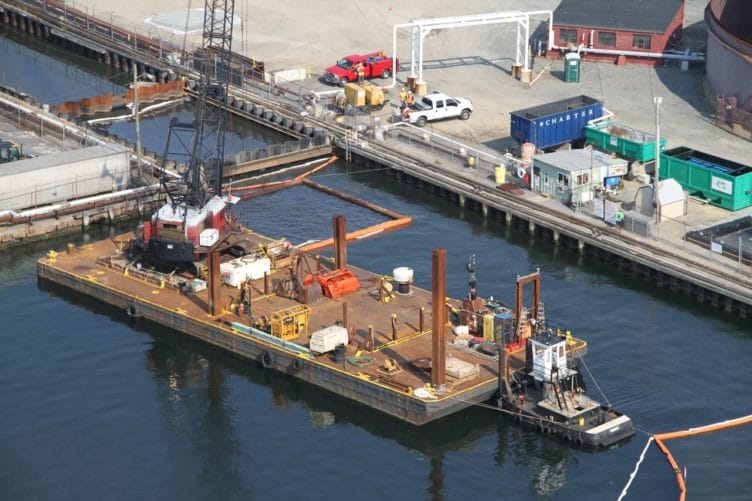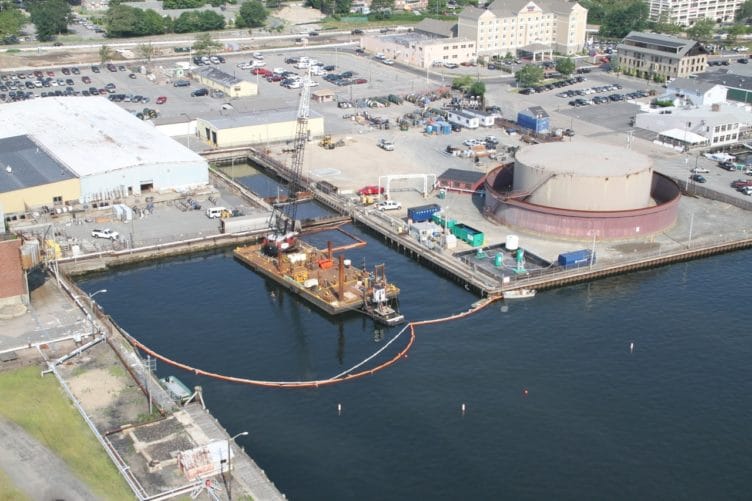 Key Challenges
GEI designed a unique alternative that included InSitu Solidification (ISS) on aquatic sediments, which had historically not been attempted. Implementation of this alternative plan included installation of steel sheet pile walls to permanently close off and contain the contaminated sediment in the Inner Slip portion of the site, dredging of designated portions of the Outer Slip and placement of the dredged sediment in the Inner Slip, ISS of the Inner Slip and Outer Slip dredge spoil, capping of the solidified material in the Inner Slip and aquatic capping of the remaining Outer Slip sediments.
GEI's alternative approach for this project resulted in $10 million savings for the client. As a result of GEI's innovative approach, there was no engineering support needed for the decrepit seawall, no re-stabilizing of dredged material, and transportation of numerous truckloads of dredged sediment was avoided. The innovative approach was estimated to have reduced the carbon footprint of the project equivalent to taking 2000 cars off the roads for an entire year.
After this project had stalled for several years due to technical complexities, GEI staff began work in June 2010 and completed the project in October 2011. The site is regulated under the Massachusetts Contingency Plan (MCP), Wetland regulations, US Army Corps, and located within the limits of the New Bedford Harbor Superfund Site. GEI worked with NSTAR and the MassDEP to reach out to federal, state, and local regulators to streamline the intricate permitting process.
GEI currently continues work for the client on the land side of this location, performing remediation at the former MGP site.
Show More
Show Less