No. 9 Walton
No. 9 Walton is a 41-story ultra-luxury residential building in the Chicago Gold Coast neighborhood.  The building contains two basement levels and required excavation of three levels to include the building's core mat with depths up to 36 feet below the existing ground surface.  The building is directly adjacent to heavily travelled streets on two sides, with a turn of the 20th century masonry building on one side and a high-rise building on the fourth side.
Show More
Show Less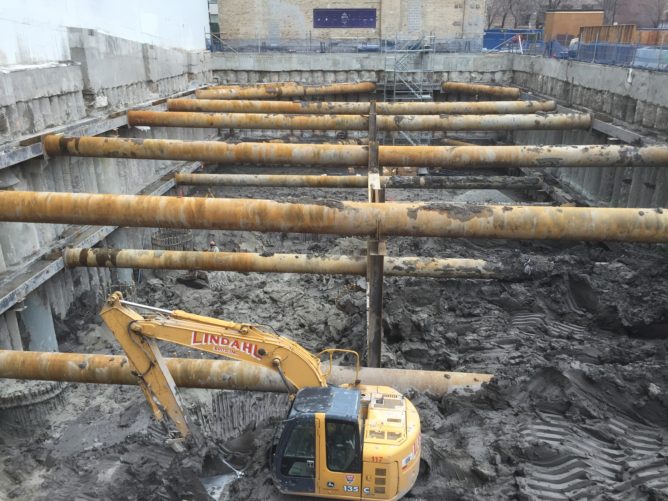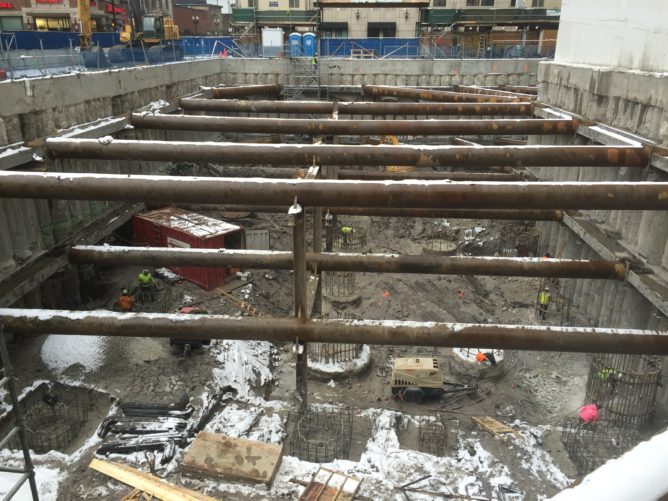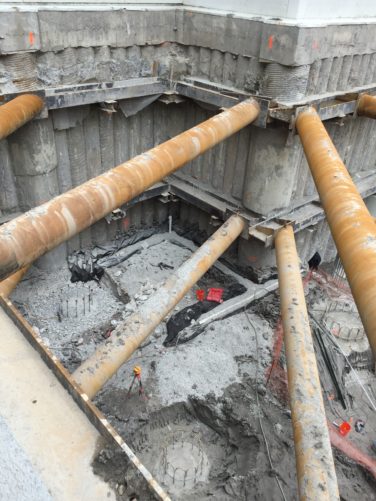 Key Challenges
GEI successfully navigated a tight time frame and addressed a number of environmental matters, keeping the project on schedule and on budget.  From start to finish, all environmental work was completed in one month, which included the 4th of July holiday.  This included completing a Phase I ESA, multiple environmental analytical tests and the final uncontaminated soil evaluation report.  GEI also assisted the client with approvals for the solid waste and uncontaminated soils.
While conducting potholing efforts during on-site demolition, the contractor identified a buried tank.  GEI identified multiple tank removal contractors for the client. It was determined that the tank system was placed in a concrete vault that was partially buried on the subject property and partially buried under West Walton Street.  GEI and the tank contractor were able to fully unearth the tank system and identify that the tank did not contain any hazardous substances but was actually a pressure vessel which was able to be removed. This allowed construction to continue and the client avoided pursuing a lengthy tank removal permit with the City of Chicago. From the initial request to the end of the environmental projects took only 34 days.
GEI also performed geotechnical engineering services at the site.  GEI analyzed and utilized varying foundation bearing levels to avoid adjacent high-rise building foundations which had been installed onto the property of No. 9 Walton.  Foundation systems included belled drilled shafts (caissons) at varying levels and also drilled shafts installed to the top of rock.  The bearing pressure for the top of rock shafts was confirmed and maximized through the use of an O-Cell Test.
Protection of the existing masonry building required extensive underpinning.  In addition, a secant pile wall with 880 mm and 1180 mm diameter shafts was installed with wide flange beams in every other pile adjacent to the masonry building and the public right of way.  GEI performed finite element analysis of the earth retention system to analyze construction sequence and anticipated deflections to satisfy City of Chicago requirements and avoid more robust bracing systems.  Measured deflections in adjacent inclinometers closely matched predicted system deflections.
During construction, GEI provided full time observation, material testing, and special inspection services.  GEI representatives observed and documented the installation of the caisson foundations and secant piles.  Reinforcing steel and post-tensioning cables were observed and documented for all 41 floors and below grade areas.  GEI sampled and tested concrete for compressive strength and modulus of elasticity.  Maturity meter testing was also implemented to help expedite post-tension stressing operations.  The maturity method is a way of evaluating new concrete's in-place strength by relating time and temperature measurements to actual strength values.
Show More
Show Less