Thought Leadership
GEI to Host Webinar Discussing the Current and Future State of Water Management and Infrastructure
June 4, 2017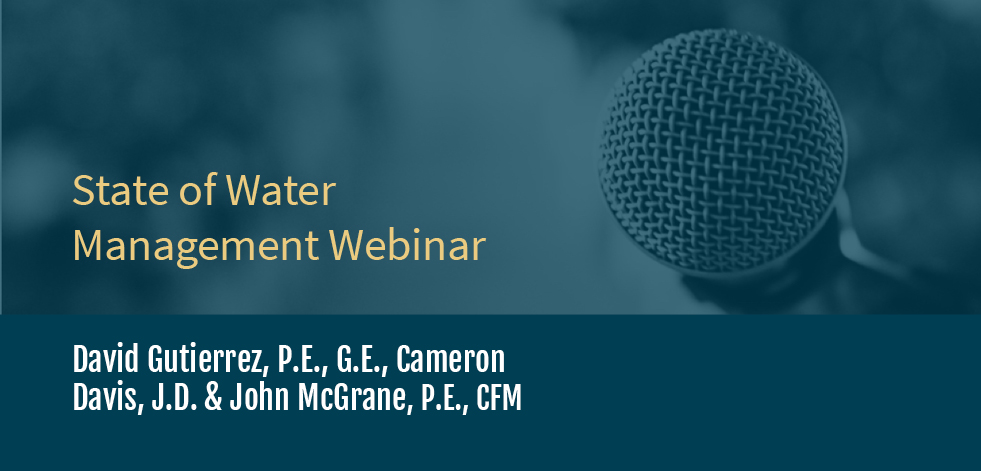 Three of GEI's water infrastructure experts – David Gutierrez, P.E., G.E, Cameron Davis, J.D., and John McGrane, P.E., CFM will be presenting in a webinar titled, "How Aging Infrastructure, Sea Level Rise, and Growing Public Concern Create Opportunities and Challenges for Water Managers" on Monday June 26th at 11:30 AM EDT.
In this webinar, three industry-leading practitioners with local, state and federal water resources experience will discuss the current and future state of flood management infrastructure.  Learn how aging infrastructure, sea level rise, and growing public concern are creating opportunities and challenges across the country. Hear the types of solutions that agencies are employing to address these issues, how they are funding them and how projects are being prioritized to address this critical need.
About the Speakers:
David Gutierrez, P.E.,G.E.
David Gutierrez, P.E., G.E. is a California-registered Civil and Geotechnical Engineer in GEI's Sacramento, California office. During his 37-year career, David has established himself as an expert in water management and dam safety, and has created and led some of the most complex water management programs within the State of California for its Department of Water Resources. David has worked with cities, counties, public works agencies, water and flood control agencies, attorneys, the California Legislature, United States Congress, State of California's Governor's Office, federal agencies, and other entities on a variety of water resources-related projects. David was formerly the Chief of Division of Safety of Dams and Program Manager for the Groundwater Sustainability Program within the Department of Water Resources. He has worked for the department in several capacities over the past 35 years including Chief of the Division of Safety of Dams (DSOD), Deputy Director for Public Safety, and Deputy Director for Business Operations. As Chief of DSOD he oversees the regulation of over 1,250 dams in California and as Deputy Director of Public Safety, he oversaw the development of the FloodSAFE California Program. David has served on the Board of Directors for the Association of State Dam Safety Officials and served as president of the organization. He is a member of the National Dam Safety Review Board and the Strong Motion Instrumentation Advisory Committee of the California Division of Mines and Geology. David is also currently assisting the state of California on addressing potential solutions for the Oroville Dam.
Cameron Davis, J.D.
Cameron Davis, J.D. is a Vice President in GEI's Chicago, Illinois office, where he oversees developing solutions with the private-public and non-profit sectors. Cameron has coordinated the work of 11 federal departments and served as the Obama Administration's liaison to Congress on Great Lakes matters. As Senior Advisor to two U.S. Environmental Protection Agency Administrators in Washington, D.C., his responsibilities included coordinating Great Lakes policy and $2.2 billion for contaminated sediment cleanups, fishery matters, dam removals, wetland and habitat restoration, runoff reduction, invasive species prevention, and other related water resource matters. He also served as a lead negotiator with the U.S. State Department in its development of the 2012 U.S.-Canada Great Lakes Water Quality Agreement.
John McGrane, P.E., CFM
John McGrane, P.E., CFM is a Professional Engineer and Certified Floodplain Manager (CFM) in GEI's Glastonbury, CT office and has technical and management experience in infrastructure operations and related capital projects. Having served in engineering and construction administration positions with both private and public sector entities, John has a unique perspective on implementation of infrastructure projects. John has an extensive background in flood control and coastal protection systems, street and utility engineering; and municipal engineering and operations. As City of Hartford, CT City Engineer, John managed the Department of Public Work's (DPW) Capital Improvement Program which had a budget of up to $40 Million annually. He also functioned as DPW's main liaison with the Department of Environmental Protection, the Metropolitan District Commission, and other agencies regarding waste disposal, sewerage, environmental compliance, and capital project coordination. In addition, he served as Director of the Greater Hartford Flood Commission with responsibility for flood plain regulation and stewardship of Hartford's Flood Protection System, the largest of its kind in New England. John has successfully managed multi-year programs which secured critical FEMA Levee Accreditation, and favorable US Army Corps of Engineers rating of flood control levee, storm water pump stations, and major hydraulic conduits.