Thought Leadership
What Will Canada's Yet-to-be-Named Restoration Program Mean for Great Lakes Project Funding?
September 12, 2023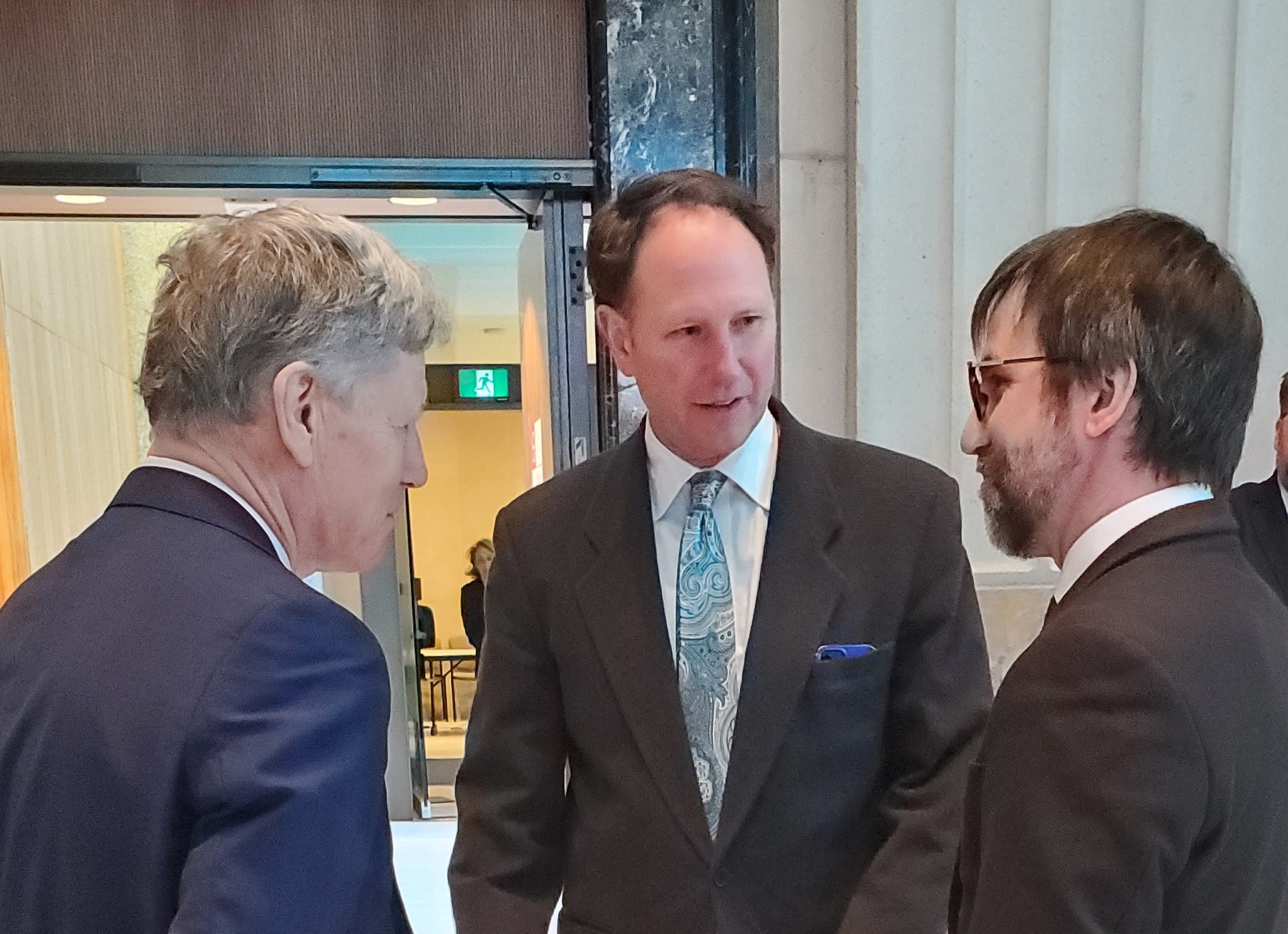 GEI's Cam Davis (C) talks with Canada Environment & Climate Change Minister Steve Guilbeault (R, with glasses) and Member of Parliament Terry Duguid (L) at a Great Lakes & St. Lawrence Investment Summit in Ottawa in 2023.
By Cam Davis – Vice President, GEI
In the last blog, we covered the U.S. political challenges involved with Great Lakes restoration funding, especially in these extremely partisan times. But we saw hope for the undercurrents of bipartisanship for Great Lakes funding, too. In this last entry, we'll look at the challenges and optimism associated with Canada's recent funding announcement.
Since the Great Lakes are shared between the U.S. and Canada (Lake Michigan is the only exception), it was only natural that Capitol Hill would start to ask after the GLRI's inception in 2010, "when will Canada follow suit with its own big investment increase?"
For years, no one could answer the question.
It's not to say that Canada hasn't invested in the Great Lakes and St. Lawrence at all. Far from it, Canada's investment has helped make steady progress. Canada has committed (in Canadian dollars):
$8 million annually for Areas of Concern cleanup, with a focus on habitat and addressing stormwater/wastewater under the Great Lakes Action Plan (GLAP);
Nearly $48.9 million over 14 years from 2007 to 2021, also for sediment remediation in AOCs;
$4 million per year from 2012 to 2016 under the Great Lakes Nutrient Initiative (GLNI) to reduce harmful algal blooms.
Still, with much remaining to be accomplished, many north of the border looked longingly south of the border at the success of the U.S.'s GLRI.
Things changed suddenly ("suddenly," after years of organized work by Member of Parliament Vance Badawey and others) in March 2023, when President Joseph Biden visited Ottawa, and Prime Minister Justin Trudeau announced $42 million per year over 10 years (about $306 in U.S. dollars).
Little is known about what the funding will be used for, though more attention to climate change, microplastics, and "forever chemicals" such as PFAS, is possible. So little is known, in fact, that an official name for the program didn't even accompany the announcement.
More likely, though, is that the new program will align to some degree with the 2020-2030 Action Plan to Protect the Great Lakes that Canadian stakeholders published, which outlines priorities such as protecting shorelines, beaches, water quality (especially from threats posed by agricultural runoff), and public health (from the threat of toxic pollution).
There's no doubt that $42 million per year will be a big boost to Great Lakes and St. Lawrence protection efforts. But even those investments will have to be prioritized for the funding to make a discernible impact. Given the need for progress in cleaning up Canada's 12 remaining domestic and shared Areas of Concern, (some have already been delisted and some are "areas in recovery"), and seemingly intractable toxic algae problems, it's likely that Canada will put even more effort into tackling these two needs.
As a spending plan heads to the Canadian Treasury Board this fall, we could come to understand more specifics as the Canadian federal government gears up for projects to begin in 2024 or beyond.
Like the GLRI's political headwinds in Washington, D.C., the new Canadian program will have its own rapids to navigate, not the least of which will be getting a significant new program up and running then, after its first year, making good on 9 more years of funding commitments with federal elections on the horizon, and the potential for shifting priorities.
Stay in touch to learn more as the story of U.S. and Canada investments, and what they could mean for you, unfold in the coming months and years.
Revisit the entire blog series