Thought Leadership
Adapting to climate change: Why "retreat" when you can advance?
November 3, 2022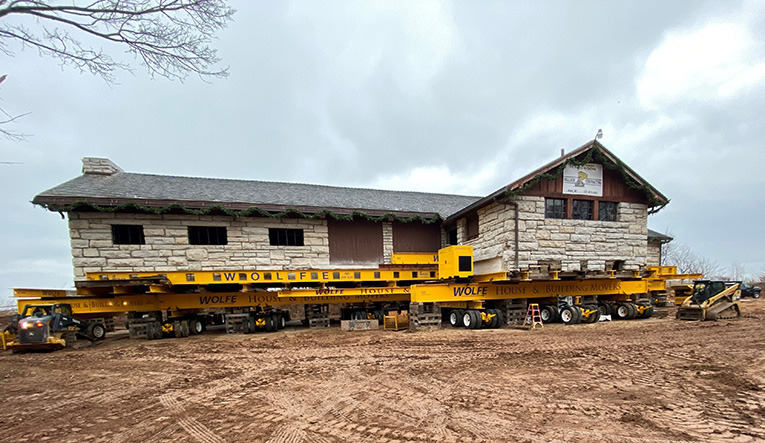 It may be the Great Lakes region's marquis example of resilient relocation – moving an 850-ton historic, 1930's pavilion at Orchard Beach State Park in Michigan.
By Cam Davis – Vice President, GEI
The expanse of climate change impacts is becoming more apparent in our everyday lives, whether it's flooding that shuts down public drinking water systems, extreme heat that sparks wildfires and threatens homes, or polar vortexes that elevate Great Lakes coastal water levels to put everything from condos to beaches at risk.
If you can't change the weather, then you must safeguard against the impacts of it. That's the basis of "adaptation" and "resilience." And that's when you get to a fork in the road: You can try to fight the weather or work with it. GEI Consultants recently helped the state of Michigan make this very kind of tough choice. We can help you too.
Moving assets to higher ground and away from climate change-induced coastal hazards has been one way to work with the weather instead of fighting it. The tactic of moving assets has been called "managed retreat." That is, until now.
Not everyone likes to "retreat." With the implication of "giving up," moving roads, utilities, or buildings to higher ground is, however, anything but.
In what may be the ultimate sign of adaptation, the English language is adjusting, too, moving away from the notion of retreating toward something that better reflects the act of adjusting course to circumstances beyond our control.
There's a "case for 'managed retreat'," extolled one commentator for Politico in 2020, referring to the activity, not the label. Yet less than two years later, E&E (owned by Politico) claimed "No one likes 'managed retreat.' So, it's getting rebranded."
"Resilient relocation" is one alternative moniker. In what may be the Great Lakes region's marquis example of resilient relocation, GEI Consultants recently completed the movement of an 850-ton historic pavilion, built in the 1930s, at Orchard Beach State Park in Michigan. Instead of fighting nature by building a seawall or hard shoreline structure at the toe of the bluff on which the pavilion was perched—an effort that might not have been cost effective in the face of pounding waves—the state of Michigan opted instead to move the building.
"The volatility of water on our Great Lakes made a radical action necessary," said Carlin Grundemann, GEI's senior geotechnical engineer and manager of the project. Michigan Gov. Gretchen Whitmer gave the effort an award and it's been covered by high-profile outlets like the Chicago Tribune.
What hasn't been covered—and what's clearly on the way—is that "relocation" doesn't just apply to things impacted by climate change. It's increasingly applying to people. As sea levels rise, wildfires, extreme heat, drought, and other severe impacts compromise people's day-to-day lives along ocean coastal states, they will move. And that—when we're talking about people, not just things—is when talk of "retreating" will fade and "relocation" will take over, even though we're referring to the same thing: working around nature and weather instead of trying to combat it.
To learn more about Resilient Relocation, contact me.