Meet Gei's
Mark Stoor, P.E.
Project Manager
Mark is the Branch Manager for our Lansing, Michigan office, which provides civil, geotechnical, ecological, geological, and other engineering services for clients in Michigan and around the country. He is a licensed civil engineer, with experience in multiple facets of civil infrastructure including roads, sewer and water, wastewater conveyance and treatment, and onsite wastewater.
His responsibilities vary, from provide support to office staff and driving regional and company initiatives, to managing design and construction projects for various municipalities. Mr. Stoor has vast experience with funding agencies and the steps necessary to obtain grants and subsidized loans through those agencies, such as USDA Rural Development, the Michigan Economic Development Corporation, The Michigan DNR Trust Fund, and the Michigan SRF Funds. He has worked in lower Michigan, northern Wisconsin, and the Upper Peninsula throughout his career.
Mark has a B.S. in Environmental Engineering from Michigan Technological University.
Some of Mark's previous experience includes:
Some of Mark's previous experience includes:
Ishpeming RD Water System Improvements – Helped Secure Grant and Loan Funding for a $12M water supply reconstruction project, managed project design and currently managing construction oversight.
Ishpeming Partridge Creek Diversion Project – Managed design and construction engineering for an $8.7M Stream relocation through City storm sewer. Project funded through Great Lakes Restoration Initiative (GLRI) allowed for the delisting of Deer Lake as an Area of Concern, one of the first in the GLRI to do so.
Stormwater, Asset Management and Wastewater Grants – Helped secure grant funding and manage projects for multiple communities to create asset management plans, allowing communities to have up to date information system-wide, as well as providing enhanced mapping and tracking tools via GIS and mobile applications.
ADA Consulting – Helped multiple clients at shopping centers and commercial parking lots throughout the United States on consulting for ADA compliance reviews, for site design for ADA compliance, as well as construction engineering.
Connect on Linkedin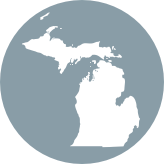 LOCATION
Lansing, Michigan
Highlights
Professional Engineer: MI, WI