Meet Gei's
Michelle Ricker
Project Manager/Water Resources Specialist
Michelle Ricker is a Project Manager and Water Resources Specialist based in the Bakersfield, California area.  She has over 12 years of experience providing both technical and managerial support for various environmental, regulatory and land-use projects. Michelle also has extensive experience in engineering and regulatory compliance within construction, agriculture and upstream petroleum production in the San Joaquin Valley and on the Central Coast of California.
Michelle has a B.S. in Bioresource and Agricultural Engineering from California Polytechnic State University.
Connect on Linkedin
Michelle was a tremendous help to us preparing Aquifer Exemptions (AEs). She is very knowledgeable, dedicated, and dependable. She is great to work with, and I look forward to working with her again in the future.
- John Landgard, PG, CHG EH&S Specialist, Sentinel Peak Resources (formerly of Naftex Operating Company)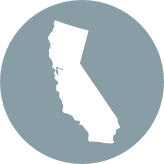 LOCATION
Bakersfield, California
Highlights
Engineer in Training: CA
Experience with permitting and compliance in Santa Barbara, San Luis Obispo, and Kern counties
American Petroleum Institute, Member
Young Professionals in Energy, Member
Society for Petroleum Engineers, Member