Meet Gei's
Robert Acker, P.E., LEED AP
Senior Consultant / Senior Vice President
Robert Acker is a senior consultant in GEI's Chicago, Illinois office working with our clients to realize value in their construction projects. Bob believes that by utilizing GEI's technical expertise and knowledge gained from over 30 years of experience, he can maximize the value in the foundation design and construction of any project. Bob has worked on over 50 high-rise construction projects including several of the tallest structures in Chicago. He uses his technical skills in site development planning, construction and construction quality assurance, construction materials, working closely with owners, architects, structural engineers and general contractors to provide on-site problem solving. His experience also includes contract negotiation, expert witness testimony, project and personnel management and construction problem solving.
He has managed and coordinated the inspection and testing of commercial developments in progress. His responsibilities as a Branch Manager include business development, financial operation and technical services. His experience also includes providing pre-acquisition due diligence services, construction management and construction draw/site reviews for a wide variety of property types all over the United States.
Bob has a B.S. in civil engineering from the Illinois Institute of Technology.
Connect on Linkedin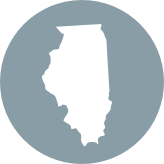 LOCATION
Chicago , Illinois
Highlights
Licensed Professional Engineer: IL, IN, OH
ASTM Committee Member A36