Award or Recognition
GEI Awarded MACDC Innovation and Excellence Award
March 2, 2022
The Michigan Association of County Drain Commissioners (MACDC) has awarded their 2022 Innovation and Excellence Award to GEI's Cloverdale Drain project.  The award was presented at MACDC's 122nd Annual Winter Drain Conference.
Led by Brian Cenci, GEI's Lansing, Michigan Drain and Water Resources team were the engineers for the complex project. Several of GEI's Michigan environmental staff, headed by Stu Kogge, PWS, also provided environmental permitting expertise throughout the project.
"I'm so proud to win this award for our team at GEI," says Brian. "This was one of the most complex and challenging projects to get permitted environmentally. The fact that we could resolve this regional complex issue in 3 years – from the initial challenge to project construction – speaks to the speed and expertise of our Drain and Water Resources project team."
The Cloverdale Drain project was designed to improve downstream flow capacity following catastrophic flooding of Upper & Lower Crooked Lakes just south of the Cloverdale Drain. These lakes had no natural outlet to regulate water levels, and there was nowhere to take the flood waters. GEI engineers designed downstream improvements to the Cloverdale Drain to pump floodwater from Upper and Lower Crooked Lakes several miles to the north.  Engineers reversed the natural groundwater flow to move the water north, which was the only way to get to an outlet in a short period of time.
GEI also designed a water filter screen system for the discharge going downstream from the Cloverdale Drain, using new air burst technology to keep the microscopic filter clean. This prevents invasive aquatic species from being transferred downstream.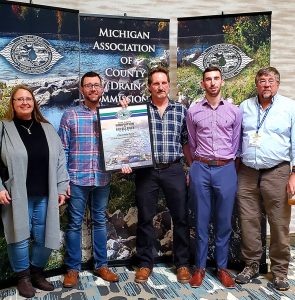 Congratulations to Brian and the entire GEI team!