Press Release
Audra Duncan joins GEI Consultants as a Director of Growth Development
September 11, 2023
Seasoned strategic marketer to support firm's growth throughout North America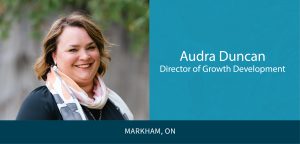 TORONTO, ON (September 11, 2023) – Audra Duncan has joined GEI Consultants as a Director in GEI's Growth Development Group. Audra brings almost two decades of AEC experience in strategic marketing to the firm. She joins GEI from a global design firm where she led and supported the growth of multiple key sectors.
Audra will support GEI's growth programs in Canada and across the company. In this role, she will work closely with GEI's Seller-Doers, operational leaders, and initiative teams as they implement growth plans related to Oil & Gas, Mining, Indigenous business partnerships, emerging contaminants, and other priority sectors.
"We are so pleased to welcome Audra to the GEI team," says Scott Wallington, GEI's Chief Development Officer. "Audra's diverse industry experience across a variety of geographies, clients, and markets will prove highly valuable to many at GEI. Audra has particularly deep experience with rapidly growing operations and technical service areas, which aligns perfectly with GEI's growth-generated leadership needs."
"It's an exciting to join GEI. The firm has ambitious growth goals, and I look forward to helping bring them to life," says Audra. "The energy and entrepreneurial spirit of this group, combined with the opportunities in the marketplace, make this a tremendous opportunity to develop and implement new strategies that support GEI's ongoing growth."
A native of Calgary, Alberta, Audra has expertise supporting strategic marketing and growth initiatives for AEC clients and projects around the globe. An active member of her community, Audra volunteers on the Recreation Board for Ma Me O Beach, where she enjoys spending leisure time with her family.
###
About GEI: GEI Consultants, Inc. is a consulting engineering firm that delivers professional services that improve our world's built environment. With more than 1,440 staff and 54 offices in North America, GEI is a leader in providing multi-disciplined engineering and environmental services to a range of private and public sector clients, both domestically and abroad.
As a member of the employee-owned GISI family of companies, we foster personal relationships with our clients and support our staff in a partnership model, which is underpinned by continuous learning and sharing of knowledge. We retain proven, recognized experts and attract the best minds to deliver to our clients a refreshing blend of technical expertise, collaborative spirit, and innovation that is rare in our profession. We engineer solutions in five primary end markets: Water Resources, Energy, Buildings, Infrastructure, and Industrial. For more information on GEI, please visit www.geiconsultants.com.