Press Release
Cam Baron joins GEI in Lansing as Senior Construction Manager
August 16, 2023
Veteran Construction Manager brings leadership and extensive experience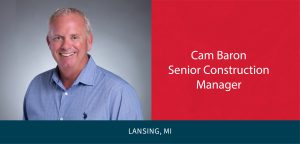 Lansing, MI (August 16, 2023) – Cam Baron has joined GEI Consultants as a Senior Construction Manager. With more than 30 years of experience on both the contracting and the consulting sides, Cam will help grow GEI's resident engineering and construction management practices.
"Cam brings a wealth of knowledge in construction management from the vast range of projects he has worked on throughout North America," says Joe Caryl, CCM, GEI's Vice President of Construction Services. "From dams, bridges, and buildings to remediation projects, his expertise and mentorship will greatly expand our construction management practice and capability to manage larger and more complex construction projects."
Cam brings a breadth of experience in roads and highways, dams and spillways, environmental remediation, power plant remediation for demolition and other infrastructure projects. He is well versed in contract management, construction management, field engineering, and planning.
"I have enjoyed working with GEI staff and am impressed with their dedication," says Cam. "Now, as part of the GEI team, I hope to provide leadership in construction management, including mentoring junior professionals, while continuing to learn and grow personally and professionally."
 ###
About GEI: GEI Consultants, Inc. is a consulting engineering firm that delivers professional services that improve our world's built environment. With more than 1,440 staff and 54 offices in North America, GEI is a leader in providing multi-disciplined engineering and environmental services to a range of private and public sector clients, both domestically and abroad.
As a member of the employee-owned GISI family of companies, we foster personal relationships with our clients and support our staff in a partnership model, which is underpinned by continuous learning and sharing of knowledge. We retain proven, recognized experts and attract the best minds to deliver to our clients a refreshing blend of technical expertise, collaborative spirit, and innovation that is rare in our profession. We engineer solutions in five primary end markets: Water Resources, Energy, Buildings, Infrastructure, and Industrial. For more information on GEI, please visit www.geiconsultants.com.