Press Release
GEI's Kwabena Asante Co-Authors White Paper Prepared for NOAA's Science Advisory Board
July 13, 2023
Paper makes recommendations for NOAA actions related to four specific climate hazards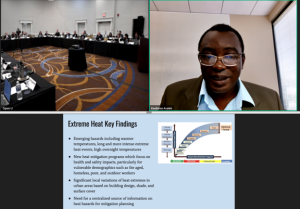 Rancho Cordova, CA (July 13, 2023) – GEI Consultants' Senior Climate Specialist Kwabena Asante has co-authored a recently published white paper for the National Oceanic and Atmospheric Administration's (NOAA) Science Advisory Board.
In the white paper, Kwabena and his colleagues at the board's Climate Working Group lay out recommendations for enhancing climate resilience planning within a five to 10 year timeframe.
"We're pleased the Science Advisory Board moved this paper forward because it outlines actionable steps NOAA and community and resource managers can collaborate on to mitigate emerging climate hazards," says Kwabena. "The communities we live and work in could benefit from enhanced integration of NOAA's climate information into their resource and infrastructure planning processes".
The white paper explores how NOAA research and operations can be adapted to better support early identification, monitoring, and communication of emerging hazards and vulnerabilities in communities and ecosystems confronting near-term changes. In particular, it outlines recommendations and needs within the 5-10 year planning cycle for droughts, floods, extreme heat, and wildfires.
Kwabena Asante, PhD, PE, is an engineering hydrologist and climate resilience planner with over two decades of experience in enhancing water systems, infrastructure, and natural ecosystems.  He serves on the Climate Working Group of the Science Advisory Board for NOAA, providing recommendations on the agency's climate activities, predictive capabilities, and observing systems.
Read the full white paper on NOAA's report library.
White paper co-authors:
Kirstin Dow, CWG Co-Chair and Co-Lead, Univ. of South Carolina
Kwabena Asante, Co-Lead, GEI Consultants, Inc.
Michael Anderson, California Department of Water Resources
Alicia Karspeck, Fabric Risk
Dennis Lettenmaier, Univ. of California, Los Angeles
Tamara Wall, Desert Research Institute
LeRoy Westerling, University of California, Merced
About GEI: GEI Consultants, Inc. is a consulting engineering firm that delivers professional services that improve our world's built environment. With more than 1,440 staff and 54 offices in North America, GEI is a leader in providing multi-disciplined engineering and environmental services to a range of private and public sector clients, both domestically and abroad.
As a member of the employee-owned GISI family of companies, we foster personal relationships with our clients and support our staff in a partnership model, which is underpinned by continuous learning and sharing of knowledge. We retain proven, recognized experts and attract the best minds to deliver to our clients a refreshing blend of technical expertise, collaborative spirit, and innovation that is rare in our profession. We engineer solutions in five primary end markets: Water Resources, Energy, Buildings, Infrastructure, and Industrial. For more information on GEI, please visit www.geiconsultants.com.