Press Release
Kevin Yezdimer, PE joins GEI's Exton, Pennsylvania office as Director of Coastal/Waterfront and Water Resources
July 27, 2023
Director will target strategic growth of coastal market in the Mid-Atlantic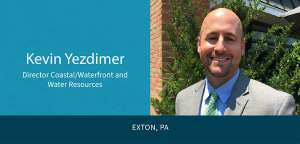 Exton, PA (July 27, 2023) – Kevin M. Yezdimer, P.E. has joined GEI's Exton office as the Director of Coastal/Waterfront and Water Resources. With eighteen years of varied and progressive geoscience, environmental, regulatory compliance, and civil engineering work experience, Kevin will provide overall project management for complex multidisciplinary projects.
"Kevin brings a strong blend of technical knowledge in both science and engineering along with a focus on the big picture," says Senior Vice President and Mid-Atlantic Area Manager Barry Raus. "His background, including operations management and team building, is an asset that will allow him to grow our coastal/waterfront practice in the Mid-Atlantic."
Kevin will oversee complete project life cycle development including project development, design, procurement, construction, and operation and maintenance phases.
"I am excited about the opportunities to build upon our existing successes across geographies particularly within water resources, geoscience engineering, and regulatory compliance," says Kevin. "It is exciting to be surrounded by so many different talented folks at varying stages in their careers. The amount of collaboration and energy is unique to GEI and is a product of the firm's history and vision."
###
About GEI: GEI Consultants, Inc. is a consulting engineering firm that delivers professional services that improve our world's built environment. With more than 1,440 staff and 54 offices in North America, GEI is a leader in providing multi-disciplined engineering and environmental services to a range of private and public sector clients, both domestically and abroad.
As a member of the employee-owned GISI family of companies, we foster personal relationships with our clients and support our staff in a partnership model, which is underpinned by continuous learning and sharing of knowledge. We retain proven, recognized experts and attract the best minds to deliver to our clients a refreshing blend of technical expertise, collaborative spirit, and innovation that is rare in our profession. We engineer solutions in five primary end markets: Water Resources, Energy, Buildings, Infrastructure, and Industrial. For more information on GEI, please visit www.geiconsultants.com.