Press Release
Michelle LaRose joins GEI's Traverse City, Michigan, office as a Senior Water Resources Engineer
August 10, 2023
Former Deputy Drain Commissioner brings public and private sector experience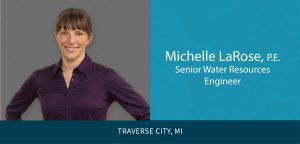 Traverse City, MI (August 10, 2023) – Michelle LaRose has joined GEI Consultants in Traverse City as a Senior Water Resources Engineer. Michelle brings 20 years of public and private sector experience in design, project management, construction administration, permit compliance, and grant administration. During the past eight years, she served as the Livingston County Deputy Drain Commissioner.
"We are excited to welcome Michelle to the growing GEI team in Michigan. Michelle has successfully managed and administered many water resources projects as both a consultant and deputy commissioner," says GEI Senior Project Manager Dan DeVaun. "Her exceptional organizational and communication skills will help our project teams deliver efficient solutions for our clients' complex project challenges."
Michelle's years of leadership experience, in both professional and volunteer organizations, have made her well known and respected throughout Michigan's water industry. She brings engineering and management experience on water resources projects including green infrastructure design, watershed planning, and dam removals.
"As I've worked with people at GEI throughout my career, I've found that we have the same passion to protect our water resources through teamwork and collaboration," says Michelle. "Now that I'm part of the team, my goal is to foster existing relationships, build new ones, and utilize my variety of experience to help GEI continue providing effective solutions to our clients."
About GEI: GEI Consultants, Inc. is a consulting engineering firm that delivers professional services that improve our world's built environment. With more than 1,440 staff and 54 offices in North America, GEI is a leader in providing multi-disciplined engineering and environmental services to a range of private and public sector clients, both domestically and abroad.
As a member of the employee-owned GISI family of companies, we foster personal relationships with our clients and support our staff in a partnership model, which is underpinned by continuous learning and sharing of knowledge. We retain proven, recognized experts and attract the best minds to deliver to our clients a refreshing blend of technical expertise, collaborative spirit, and innovation that is rare in our profession. We engineer solutions in five primary end markets: Water Resources, Energy, Buildings, Infrastructure, and Industrial. For more information on GEI, please visit www.geiconsultants.com.