Press Release
Nader Ghasempour Joins GEI Canada as Senior Geostructural Project Manager
November 15, 2023
Rock mechanics expert brings vast technical knowledge and project management experience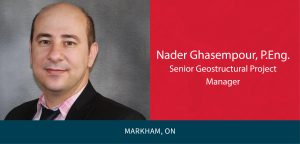 Markham, Ontario (Nov. 15, 2023) – Nader Ghasempour, Ph.D., PMP, P.Eng., has joined GEI Consultants as Senior Geostructural Project Manager. Nader has spent 20 years dedicated to studying and understanding the intricate complexities of rock mechanics. He has successfully applied his expertise to various heavy civil projects across the globe, including subway tunnels, shafts, slopes, underground cavities, mining, water, and wastewater.
"Nader's extensive background in tunneling and rock mechanics will open further opportunities for GEI's growth in Canada, while supporting the exciting tunneling pursuits being undertaken in collaboration with our U.S. offices," says Chris Metaxas, P. Eng., Practice Lead – Structural/Geostructural Canada. "In addition, Nader's strong leadership and management skillset will help foster growth and mentorship opportunities for our younger team members."
Nader's expertise extends to rock damage assessments, rock brittleness analyses, rock failure mechanisms, ground behaviour analyses due to excavation, and underground space stability. He specializes in ground control, geotechnical monitoring, stability analysis for complex and challenging tunnelling operations, geotechnical investigation and design, and design of underground structures in soil and hard rock grounds.
"I am thrilled to join the GEI team. GEI's commitment to excellence, collaborative approaches, and dedication to pushing the boundaries of consulting, align perfectly with my own values and aspirations," says Nader. "I look forward to contributing to GEI's continued success by providing innovative insights and actionable recommendations to our clients."
Nader holds a Ph.D. in rock mechanics with a focus on underground construction, stability, and geotechnical projects. By combining his academic insights with hands-on experience, he can offer clients a unique perspective on optimizing rock-related aspects of their projects.
About GEI: GEI Consultants, Inc. is a consulting engineering firm that delivers professional services that improve our world's built environment. With more than 1,440 staff and 57 offices in North America, GEI is a leader in providing multi-disciplined engineering and environmental services to a range of private and public sector clients, both domestically and abroad.
As a member of the employee-owned GISI family of companies, we foster personal relationships with our clients and support our staff in a partnership model, which is underpinned by continuous learning and sharing of knowledge. We retain proven, recognized experts and attract the best minds to deliver to our clients a refreshing blend of technical expertise, collaborative spirit, and innovation that is rare in our profession. We engineer solutions in five primary end markets: Water Resources, Energy, Buildings, Infrastructure, and Industrial. For more information on GEI, please visit www.geiconsultants.com.