Press Release
Simon Gray, P.E., CEng., joins GEI's Sacramento, California, office as Senior Program Manager
July 25, 2023
Experienced Water Resources Engineer brings wealth of design and program management expertise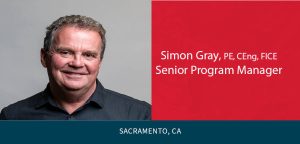 Sacramento, CA (July 25, 2023) – Simon Gray, P.E., CEng., has joined the Sacramento office of GEI Consultants as Senior Program Manager. Simon brings technical expertise in design and construction of water and wastewater projects, as well as global program and project management experience.
"We are thrilled that Simon has chosen GEI," says Jerry Reed, Vice President and leader of GEI's California Program Management Practice. "His experience managing major capital projects combined with his technical knowledge in water and sewer infrastructure and treatment plants make him a great addition to the GEI team. We look forward to Simon helping grow our program management practice as we continue to expand what we offer our clients."
In addition to design work, Simon's extensive experience also includes successful management of multi-disciplinary fast-track design build projects with a particular emphasis on constructability and design-construction coordination. He is also experienced in public consultation and community outreach.
"The programs and projects I've enjoyed working on the most have been ones where I've been responsible for resolving complicated issues, bringing together all the moving parts, people, and deliverables, and providing benefit to the client and the community," says Simon. "I was drawn to GEI because of the reputation of the firm as well as its people. My goal is to actively help GEI develop its program management practice in Northern California, while being a useful project management and technical resource to other GEI teams."
About GEI: GEI Consultants, Inc. is a consulting engineering firm that delivers professional services that improve our world's built environment. With more than 1,440 staff and 54 offices in North America, GEI is a leader in providing multi-disciplined engineering and environmental services to a range of private and public sector clients, both domestically and abroad.
As a member of the employee-owned GISI family of companies, we foster personal relationships with our clients and support our staff in a partnership model, which is underpinned by continuous learning and sharing of knowledge. We retain proven, recognized experts and attract the best minds to deliver to our clients a refreshing blend of technical expertise, collaborative spirit, and innovation that is rare in our profession. We engineer solutions in five primary end markets: Water Resources, Energy, Buildings, Infrastructure, and Industrial. For more information on GEI, please visit www.geiconsultants.com.