Press Release
Summer Pardo, P.W.S, C.W.B. joins GEI as a Principal Environmental Biologist
March 29, 2023
Environmental regulatory expert strengthens GEI's environmental practice in the west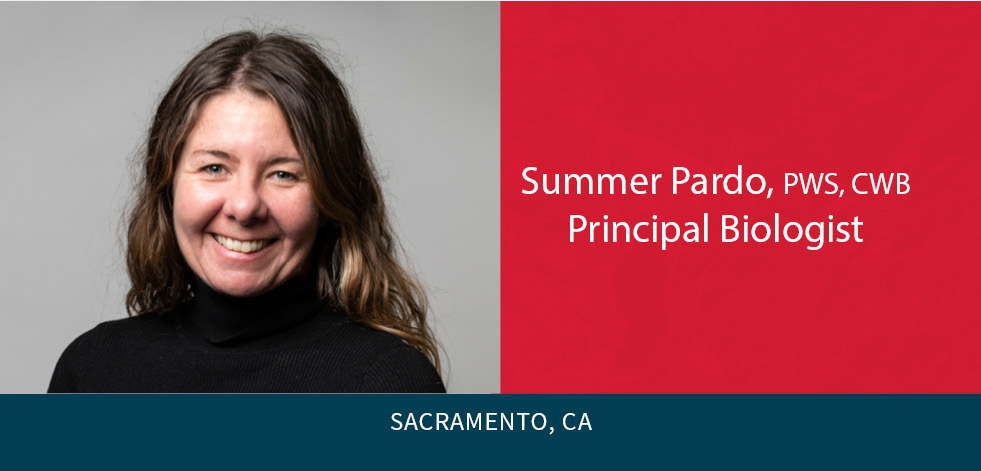 Sacramento, CA (March 30, 2023) – Summer Pardo, P.W.S, C.W.B. has joined GEI's Sacramento office as a Principal Biologist – Environmental. Summer brings more than 20 years of experience conducting aquatic resources delineations and special-status species assessments/surveys in California, Colorado, and other states across the U.S.
"We are excited to have Summer join our Environmental Practice," says GEI Senior Wildlife Biologist Kelly Fitzgerald-Holland. "Our team will leverage her years of practice leadership and technical expertise, and her passion for solving complex compliance issues and balancing ecosystem conservation with built projects."
A professional biologist, Summer also boasts extensive experience in Clean Water Act Section 404 and 401 permits, Endangered Species Act Section 7 and Section 10 consultations, and state resource agency permits/authorizations across the U.S.
"I'm excited for a fresh start with GEI's talented team of environmental professionals and to continue providing excellent service to my clients," says Summer.
Summer's clients include a variety of local, state, federal, and private entities nationally. She also has strong relationships with California's Regional Water Quality Control Boards and Department of Fish and Wildlife, in addition to federal agencies, including the U.S. Army Corps of Engineers, U.S. Fish and Wildlife Service, and National Marine Fisheries Services.
###
About GEI: GEI Consultants, Inc. is a consulting engineering firm that delivers professional services that improve our world's built environment. With more than 1,000 staff and 47 offices in North America, GEI is a leader in providing multi-disciplined engineering and environmental services to a range of private and public sector clients, both domestically and abroad.
As a member of the employee-owned GISI family of companies, we foster personal relationships with our clients and support our staff in a partnership model, which is underpinned by continuous learning and sharing of knowledge. We retain proven, recognized experts and attract the best minds to deliver to our clients a refreshing blend of technical expertise, collaborative spirit, and innovation that is rare in our profession. We engineer solutions in five primary end markets: Water Resources, Energy, Buildings, Infrastructure, and Industrial. For more information on GEI, please visit www.geiconsultants.com.