Thought Leadership
Gary Rozmus & Matthew O'Neil to Present "The Hidden Dangers of Abandoned Utilities" Webinar on 5/16
May 16, 2017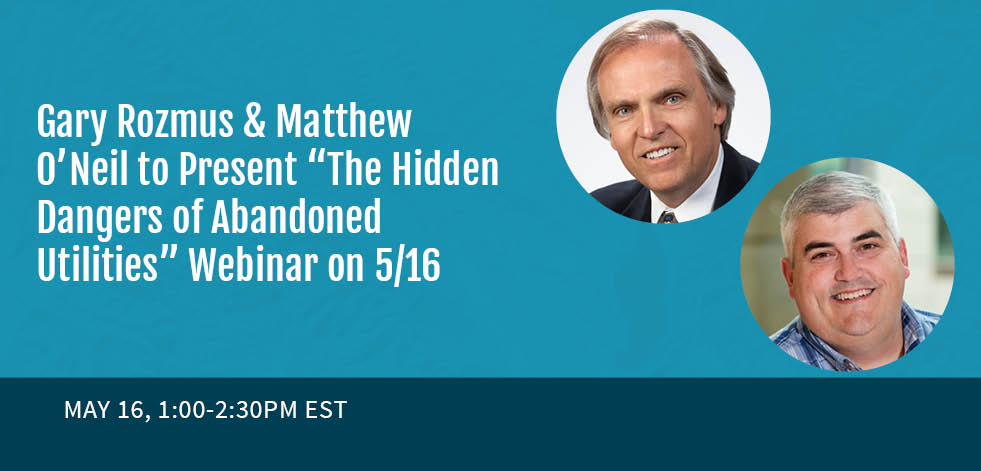 GEI's Gary Rozmus, P.E., and Matthew O'Neil P.E., will be hosting a Live Webinar on May 16 from 1:00pm-2:30pm EST, titled "The Hidden Dangers of Abandoned Utilities". Register to attend – http://www.lorman.com/training/the-hidden-dangers-of-abandoned-utilities
The Webinar will help those responsible for planning and designing construction to avoid or minimize the potential effect of abandoned utilities before starting construction. The content will explain procedures that consultants and engineers can implement during planning stages and pre-design investigations to identify potential abandoned utilities.
The Webinar learning objectives include describing methods for proper abandonment of utilities, discussing options for anticipating abandoned utilities and preventing adverse effects on construction, identifying the types of abandoned utilities that are encountered, and how to recognize potential hazards from abandoned utilities.
About the speakers:

Gary Rozmus, P.E., is a Senior Consultant at GEI, with more than 40 years of experience in environmental consulting. He was the first President of the Board of Directors for the New York City Brownfield Partnership and still serves on the Board. Gary currently directs brownfield redevelopment, freight and transit projects, real estate acquisition and development environmental services. Gary regularly presents at numerous conferences, including EPA Brownfield Conference and the Railroad Environmental Conference. Gary graduated with a B.S. and M.S. in engineering from Manhattan College and Brooklynn Polytechnic Institute of New York.
Matthew O'Neil, P.E., is a Senior Engineer and Project Manager with 16 years of environmental consulting experience. He has successfully remediated multiple sites using a wide range of remedial technologies, and has applied focus in long term site management including response to damage from natural disasters. Matthew conducts regular internal seminars and workshops on numerous environmental and construction practices within GEI, and has written several publications related to the areas of environmental engineering and groundwater treatment. He is a member of the Society of American Military Engineers and Rhode Island Society of Environmental Professionals, and graduated with a B.S. in environmental engineering from the United States Military Academy at West Point.