Meet Gei's
Ronald P. Palmieri, P.E.
President and Chief Executive Officer
Ron is GEI's President and Chief Executive Officer, he is responsible for the overall strategic direction of the company. He works with GEI's senior leadership to develop company-wide  goals and objectives consistent with GEI's strategic plan, vision, and culture as established by the Board of Directors. Ron is also a member of the Board.
Ron is a professional engineer with more than 30 years' experience in environmental, civil engineering, and construction services. Ron has served as Project Principal and/or Project Manager on construction QA/QC projects ranging from commercial facilities, to high rises, to healthcare and retirement communities to educational facilities, providing geotechnical and construction consulting services. He has also serves as an expert witness on pavement failure investigations and assist clients with management of their pavement assets.
Ron earned his B.S. and M.S. in Civil Engineering from University of Illinois, Urbana-Champaign. He also earned his MBA from DePaul University, Chicago, Illinois.
Connect on Linkedin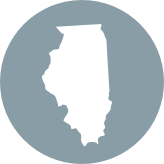 LOCATION
Chicago , Illinois
Highlights
Professional Engineer: MI, IL, NC, DE, NY
Member of GEI's Board of Directors
American Concrete Institute, Member
American Society of Civil Engineers, Member