Award or Recognition
GEI's Rick Keizer Receives Award for Outstanding Paper by a Young Professional at USSD Conference
June 27, 2016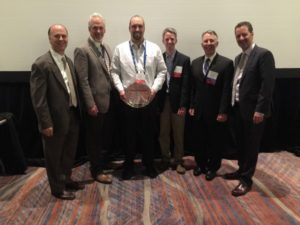 Sacramento, Calif.—June 27, 2016—GEI Consultants, Inc., one of the nation's leading geotechnical, environmental, water resources, and ecological science and engineering firms, is proud to announce that Rick Keizer recently received the award for Outstanding Paper by a Young Professional at this year's USSD Conference. The paper, An Empirical Model for Estimating Internal Erosion Critical Gradients for Inclined Exit Face Conditions, was coauthored by Professor John Rice of Utah State University and GEI's Robert Jaeger.
"There were a lot of good papers by young professionals at the conference. Rick winning the award over the competition really speaks to the significance and quality of Rick's work," said Jaeger.
Rick is an accomplished project engineer out of GEI's Sacramento office.
About GEI: GEI's multidisciplinary team of engineers, scientists, and planners deliver integrated water resources, environmental, ecological, geotechnical and waterfront engineering solutions to diverse clientele nationwide. The firm has provided a broad range of consulting and engineering services on over 50,000 projects in 50 states and 22 countries. For more information on GEI, please visit www.geiconsultants.com.
Media Contact:
Leann Gebhardt
Marketing Communications Manager
400 Unicorn Park Drive
Woburn, MA 01801
lgebhardt@geiconsultants.com