Press Release
Daniela Abbott, P.E., PMP, joins GEI as Senior Waterfront Project Manager
May 25, 2023
Waterfront Project Manager offers diverse technical background in naval architecture and marine engineering.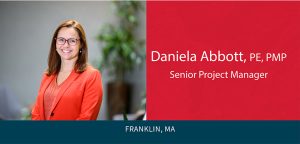 Franklin, MA (May 25, 2023) – Daniela Abbott, P.E., PMP has joined GEI's Franklin office as Senior Waterfront Project Manager. She brings nearly 18 years of expertise in engineering and project management on numerous marine infrastructure projects.
"Daniela's diverse and extensive experience in Rhode Island will support our existing waterfront team and extend our ability to provide waterfront engineering services in Rhode Island and beyond," says Russell Titmuss, Senior Project Manager of Waterfront Structures. "She also has background as a naval architect and marine engineer, and she will add significant capacity and experience to our waterfront team."
Daniela brings expertise in numerous areas including waterfront park improvements, marine terminal projects, and shipyard expansions.
"GEI has an incredible reputation in the industry, with a talented team of professionals and extensive opportunities for the future," says Daniela. "I look forward to contributing to the team with my diverse technical background and maritime expertise and hope to further bolster and expand GEI's waterfront and coastal engineering capabilities."
As a naval architect and marine engineer, Daniela provides valuable perspective on the needs and requirements of maritime facilities. This unique background allows her to lead multi-disciplinary teams of engineers and technical experts to design solutions that tackle challenging problems and address clients' needs with an integrated, holistic approach.
###
About GEI: GEI Consultants, Inc. is a consulting engineering firm that delivers professional services that improve our world's built environment. With more than 1,240 staff and 54 offices in North America, GEI is a leader in providing multi-disciplined engineering and environmental services to a range of private and public sector clients, both domestically and abroad.
As a member of the employee-owned GISI family of companies, we foster personal relationships with our clients and support our staff in a partnership model, which is underpinned by continuous learning and sharing of knowledge. We retain proven, recognized experts and attract the best minds to deliver to our clients a refreshing blend of technical expertise, collaborative spirit, and innovation that is rare in our profession. We engineer solutions in five primary end markets: Water Resources, Energy, Buildings, Infrastructure, and Industrial. For more information on GEI, please visit www.geiconsultants.com.