Press Release
Korin Doering joins GEI's Green Bay, Wisconsin, office as Ecologist and Project Manager
August 3, 2023
Ecologist brings diverse expertise in restoration of lakes, rivers, and wetlands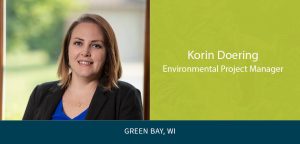 Green Bay, WI (August 3, 2023) – GEI Consultants has announced that Korin Doering has joined the firm's Green Bay office as an Ecologist and Project Manager. Korin brings more than a decade of ecological and environmental experience in grant writing, water quality, aquatic invasive species, and restoration planning.
"Korin excels at seeing how projects can benefit stakeholders, how to manage both budgets and expectations, and where value can be added," says Katie Unke Ehrenberg, Ecological Practice Leader and Senior Project Manager. "She will be an asset to helping clients with their unique challenges and projects."
Korin is known throughout northeast Wisconsin and is a welcome and familiar face to GEI's clients. In addition to her expertise in regional-scale strategic planning and restoration for lakes, rivers, and watersheds, Korin has a reputation for building partnerships and collaborating with a variety of stakeholders.
"I've been impressed with the GEI team and the way they build on each other's strengths," says Korin. "I look forward to learning the processes that enable them to be efficient and effective for clients, and long-term, I want to help grow the restoration ecology side of the company with a focus on lakes, rivers, and wetlands."
About GEI: GEI Consultants, Inc. is a consulting engineering firm that delivers professional services that improve our world's built environment. With more than 1,440 staff and 54 offices in North America, GEI is a leader in providing multi-disciplined engineering and environmental services to a range of private and public sector clients, both domestically and abroad.
As a member of the employee-owned GISI family of companies, we foster personal relationships with our clients and support our staff in a partnership model, which is underpinned by continuous learning and sharing of knowledge. We retain proven, recognized experts and attract the best minds to deliver to our clients a refreshing blend of technical expertise, collaborative spirit, and innovation that is rare in our profession. We engineer solutions in five primary end markets: Water Resources, Energy, Buildings, Infrastructure, and Industrial. For more information on GEI, please visit www.geiconsultants.com.